Horror Brides Tourney, Semifinals – The Rocky Horror Picture Show (No. 2) vs. Young Frankenstein (No. 14)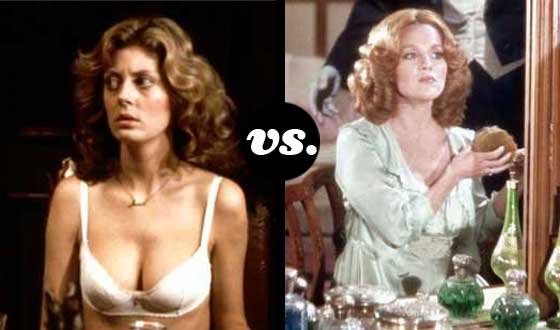 The Rocky Horror Picture Show (No. 2) vs. Young Frankenstein (No. 14)" width="560″/>
Did Cinderella ever marry Prince Charming?
Say "Cinderella" is, in this case, No. 14 seed-Cinderella Madeline Kahn, and that "Prince Charming" is actually the Horror-Brides Tournament championship. OK, so it's not the best analogy, but dammit, Janet, it just works.
Madeline Kahn's Elizabeth, from Young Frankenstein, didn't rate high on the potential-champions radar, as evinced by her low seed. But she took that in stride. Nay, she used it as mental ammunition to unload an artillery barrage of ass-whup on her first-round victims, the three Brides of Dracula from 2004's Van Helsing. Those brides? Those gothy, third-seeded brides? Click-clack-boom, bitches, Kahn had your number. And the second round saw another fusillade as Madeline busted the dreams of Winona Ryder's red-clad Lydia from Beetlejuice.
And now Madeline brings her wrath of Kahn to bear on the No. 2 seed, a true pinup girl for corrupted innocence — Janet from The Rocky Horror Picture Show. No one has even challenged Janet, dammit; her first-round victim, comely Yvonne Monlaur from Brides of Dracula (the 1960 version), and her second-round foe, seventh-seeded Mrs. X from So I Married an Axe Murderer, fell before her like wilted rose petals from a bride's bouquet.
Can Cinderella prevail and march down the aisle to the finals? You, Dear Reader, will be the judge of that.
Dammit, Janet, are you ready? Elizabeth, are you ready? Let's get it on!

Read More