Horror Brides Tourney, Round Two: Bride of Chucky (No. 4) vs. The Corpse Bride (No. 8)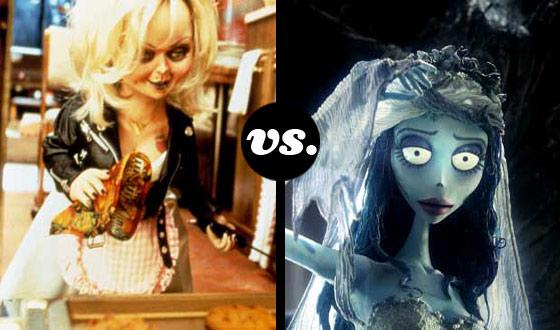 She's dead, she's blue because she has no man, and she's seriously ready to channel that rage into an ass-whippin' for some unfortunate someone. She made mincemeat of her first-round foe, the alien-ated housewife of I Married a Monster From Outer Space (yeah, I know… that is one really crappy movie title unless it's a comedy, which this one was not). Hello, Corpse Bride: Are you ready for your second-round match up?
The Corpse Bride's next opponent, the Bride of Chucky, does her own blurring of the lines between horror and comedy. Chucky's plucky bride is seeded No. 4, a hair higher than Tim Burton's No. 5-seeded honeypot. In Round One, Mrs. Chucky did the do all over the Bride of the Gorilla, earning herself a berth in the quarter finals. The result is a spirited free-for-all featuring two dead dames who really know how to go after their man. It's mano-a-mano, woman against woman, plastic against dessicated flesh.
Undead Chick number one, are you ready? Undead Chick number two, are you ready? Let's get it on!

Read More