Horror Bride Tournament – Final Girls Enter the Semifinals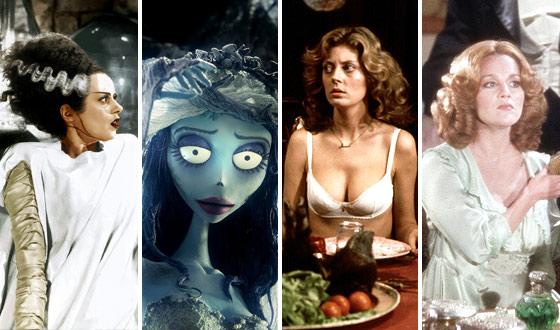 Torn taffeta, crushed rose petals and ripped lace lie on the ground like so much matrimonial shrapnel. Betrothed and bridesmaids alike are dead, dying and defeated. And rice? Don't get me started; it's being cooked as a side dish for some bridal main course. Don't look down your nose at me, sister! This is the Horror Bride Tournament, and a little cannibalism is de rigeur!
Why so much carnage? Because round two has come to a close, and only four lovely ladies remain. Top-seed Bride of Frankenstein ding-dong-dead-ditched Kim Cattrall and Suzee Pai, the titillating tag-team known as the Green-Eyed Girls of cult classic Big Trouble in Little China. The monster's bride won with a four-to-one margin that catapulted her into the semifinals.
She faces the fifth-seeded Corpse Bride, the living dead dumplin' who dusted up another undead doll (literally, a doll), pulling off a mild upset against the fourth-seeded Bride of Chucky. The Corpse Bride, voiced by Helena Bonham Carter, will have her hands full in this next round of brutal bride-on-bride action.
On the other side of the bracket, there's Cinderella-girl Madeline Kahn (Young Frankenstein), the lowly No. 14 seed who followed her first-round upset over the No. 3 seeded Brides of Dracula (Van Helsing) with a second-round trouncing of No. 6 seed Lydia (Beetlejuice). Many handicappers thought Winona Ryder's Lydia would make the Final Four, but alas, it was not to be.
Kahn will go up against a towering icon: Janet Weiss from The Rocky Horror Picture Show. In the days before Susan Sarandon decided that acting success made her an expert on all things political, she delivered a stellar performance as a delicate flower of confusion who stumbled across a Transylvanian transvestite and became a candidate for the Girls Gone Wild hall of fame. Janet did some stumbling in round two all right, stumbling right over Mrs. X from So I Married an Axe Murderer. Nancy Travis' mysterious lady entered as the No. 7 seed but had little chance against Janet's "I get around" style.
So the Final Four have emerged: It's the top-seed Bride of Frankenstein vs. the fifth-seeded Corpse Bride, and fourth-seeded Janet against upset-master Elizabeth. Only one can win, and your vote could change everything!

Read More