Hitting It Big as an Actor in the '80s – Totally Awesome Blessing or Gnarly Curse?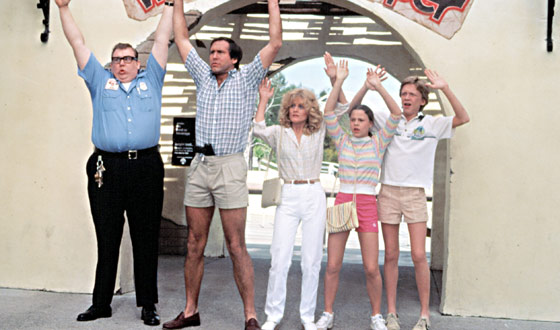 Indiana Jones. Ferris Bueller. Conan the Barbarian. Do those names sound familiar? Of course they do. They're part of the brotherhood of hot '80s actors. Some are handsome, some are funny, and some have bods to die for, but they all have one thing in common: The '80s was their heyday, and without the movies of that decade you probably wouldn't recognize those names today. (Well, except for Mel Gibson, who surely would have found a way to make headlines somehow.) Read on to find out which actors wish they were stuck in the '80s… and which ones never made it out.

Steve Guttenberg
Remember him? If you were born after 1980, probably not — since after the '80s Guttenberg fell into the "oh yeah, that guy" category. He actually had a respectable career that first decade, spitting out at least one hit movie a year, from Diner to 3 Men and a Baby. Four Police Academy movies, Short Circuit and Cocoon rounded out the list, setting him to be a franchise superstar for the ages. After that point, though, Steve Guttenberg quickly became Steve Who? Maybe if he hadn't turned down the lead role in Big, as he's reported to have done, he'd have stolen some of that gypsy magic — not to mention Tom Hanks' career.
Arnold Schwarzenegger
Straight from Conan into The Terminator,
this Austrian rocketed to fame at the very beginning of the decade and
held onto his spot with a death grip through the next ten years with
movies like Commando, Predator and Running Man. His career was absolutely explosive during these years, even into 1991 with Terminator 2, but after that point things began to peter out. Self-satires and horrible script choices followed (Jingle All the Way, anyone?), and even with his current nickname "the Governator" he's still hearkening back to those glory days. But that's not necessarily true for some of the other actors on this list, such as…

Bill Murray
Deranged greenskeeper Carl Spackler (Caddyshack) exploded onto the scene in 1980 and with that role Bill Murray established a new kind of big-screen humor. Through Stripes, Ghostbusters, Scrooged
and several others, Murray left an indelible mark on the '80s. His
career took a turn for the weird in the '90s, but came back with a
vengeance (albeit through typically bizarre roles) towards the end.
Sure, it's Murray's early career that made him an icon and his star has
dimmed a bit since then, but his more serious late-in-life career
surely makes him the envy of some of his less lucky peers. (Chevy,
we're talking to you.)

Mel Gibson
Another '80s heartthrob, Gibson wooed the world with his Australian accent and squinty blue eyes. Well, the Australian accent soon disappeared, but the actor was here to stay. He defined an era of cop movies with Lethal Weapons 1 & 2, and showed us the end of the world as we know it with the definitive Mad Max. However, his career continued strongly into the '90s, peaking with what might be his most memorable role as William Wallace in Braveheart (1995). Before his recent mental meltdown, there might have been hope for a career resurgence. Now? Unlikely.

Harrison Ford
Nobody can deny the '80s were good to Ford. Three Indiana Jones's and two chapters of Star Wars in less than ten years makes for a legacy that's hard to beat. Add to that classics like Blade Runner, Witness and Working Girl
and Ford's career has been virtually unstoppable. He maintained a
steady career through the '90s and today (if not equaling the
blockbuster success of the previous decade) and even came out with a
new Indy flick in 2008. However, it's the young, rugged Ford we'll
always associate with Indy and Han Solo, not the senior-citizen
follow-up.

Michael J. Fox
Fox burst onto the movie scene towards the middle of the decade as Marty McFly in Back to the Future,
followed closely by lycanthropic high school icon Teen Wolf. Alas, a
1991 diagnosis of Parkinson's disease made duking it out for lead roles more
difficult, and the pint-sized charmer quietly retreated from the spotlight. Not so anymore! Fox is proving that he still has
his boyish appeal and energy on his side by tearing up the small-screen airwaves in recurring roles on Boston Legal and Rescue Me with no sign of slowing down.

John Cusack
Cusack
was the guy every loner admired and every non-cheerleader wanted to get
with. He wasn't the captain of the football team, but who could resist
those irresistible puppy-dog eyes and characters who were willing to
stand outside your bedroom window with a boombox just to prove their
love (Say Anything)? Cusack stayed on the periphery of the Brat Pack with roles in Sixteen Candles, Better off Dead and Stand by Me,
and although his film career quieted down after 1990 it wasn't long before he was back in theaters. If Being John Malkovich and High Fidelity are any indication, the four movies he has slated over the course of the year to come are ones to watch.

Matthew Broderick
Where many of the men on this list have aged gracefully, Broderick is probably okay with Ferris Bueller
being his iconic look. And honestly, if you're going to be known for
one thing, inspiring teenagers across the world to play hooky and live
life to the fullest is not a bad legacy. Since movies like Biloxi Blues and WarGames
in the '80s, Broderick's movie career has continued, but without the
same success and fame of that decade. When not being called Bueller
("Bueller…? Bueller…?"), he's now better known as Mr. Sarah Jessica
Parker.
Eddie Murphy
Murphy's success in the '80s was big news because he was one of the few
black actors to become mainstream enough to be considered the face of a
decade. In fact, his first two credits were for blockbusters 48 Hrs. and Trading Places, a feat in itself. He followed those movies up with Beverly Hills Cop I & II and Coming to America,
cementing his status in the industry. He's been making movies steadily
since the decade ended, but those were definitely his best years. It's
not to say that making only kids' movies isn't a noble endeavor, but
c'mon… let's just say that if he decides to retire the fatsuit, the
movie-going community will breathe a sigh of relief.

Anthony Michael Hall
It's rumored that he turned down roles in Pretty in Pink and Ferris Bueller's Day Off so that he wouldn't be typecast, but the damage was already done. Hall's geeky characters in Weird Science, The Breakfast Club and Sixteen Candles
were so memorable, they're still what he's best known for twenty years
down the road. Based on reputation alone, you wouldn't know his career
was more of a flash in the pan (four landmark movies all within
three years). Unfortunately his post-1988 career has been less than
radical… though five years-worth of Dead Zone appearances on TV surely cushioned his fall.
Chevy Chase
Three National Lampoon Vacations, two Caddyshacks and two Fletch movies were just the beginning. Funnyman Chase pretty much defined slapstick, physical comedy in the '80s — remember Spies Like Us?
— and the decade returned the favor. Chase's big-screen career
continued into the '90s and even today, but he's never been able to
climb back up that mountain of success. It might even be said that he's
stuck in the '80s, destined to be known as "Fletch" forever. Not a bad
legacy, when you think of it that way.

John Candy
Candy's tragic death in 1994 cut short a comedic career (Volunteers, Uncle Buck, Planes Trains & Automobiles)
that might otherwise be going strong today. His characters didn't spawn
endless sequels like Chase's or inspire teenagers in love like
Broderick and Hall, but each of his movies was unique. Candy earned his
stripes (had to!) in the business and made even second-banana
characters (like Barf from Spaceballs) stand out. The '80s would have held a lot less laughs had Candy not come down from Canada and graced Hollywood with his style

Have a favorite '80s actor not listed here or disagree with one who is? Tell us who's missing in the comments section below. Also, check out our list of '80s actresses and find out who's most deserving of a twenty-first century reboot.
Read More