Dracula's Deadly Darlings – There's a Reason They're Called "Vamps!"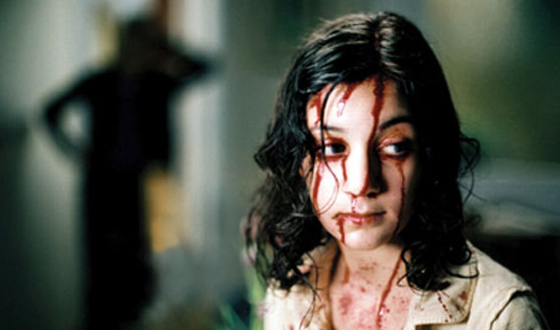 Forget Twilight and True Blood, with their angsty girls mooning after dreamy vampire boys. Let's talk full-blooded vampire women — Dracula's brides may be purely decorative, but these ladies are forces with whom to be reckoned.
Let the Right One In (2009)
Cold-eyed child vampire Lina Leandersson would be frighteningly wise beyond her years if she hadn't been 12 for such a very, very long time. Talk about a U.S. remake of this chilling Swedish movie makes my brain hurt, so I try to pretend it doesn't exist.
From Dusk Till Dawn (1996)
As, um, featured performer Santanico Pandemonium, Salma Hayek does a smokin' interpretive dance with an albino python. Anything more you need to know? And a callout to Grace Jones and her home girls (including Michelle Pfeiffer's baby sis, Dedee), who play razor-toothed strippers in Vamp (1986), and to the movie that inspired it, Hammer's darkly sexy Vampire Circus (1971).
Bram Stoker's Dracula (1992)
Yes, I know I disparaged the Brides of Dracula in general, but when one is Italian sex-bomb Monica Bellucci an exception must be made, even if she doesn't do a damned thing. And special mention: Sadie Frost as good-girl-gone-bad Lucy Westenra… that white lace ruff is fierce!
The Hunger (1986)
Having used up her centuries-old boy toy (David Bowie), icy, immortal bloodsucker Catherine Deneuve chooses brainy, busty science babe Susan Sarandon as his replacement. Yeah, the movie looks like a high-end perfume ad. And that's a bad thing why?
Lips of Blood (1975)
A man discovers that his haunting dream of a childhood encounter with a deceptively fresh-faced gamine in white was no such thing in Jean Rollin's morbidly poetic picture. It makes no sense, but damn, it's gorgeous!
Daughters of Darkness (1971)
Quick — name another Belgian horror classic. Actually, don't. Just check out French nouvelle vague goddess Delphine Seyrig as Countess Elizabeth Bathory, a vision of platinum blonde, marcel-waved, silent-screen sex appeal poured into a sequined gown, as she slinks around an off-season spa hotel and corrupts clueless newlyweds. Va-va-va-vicious.
The Velvet Vampire (1971)
Pioneering female exploitation director Stephanie Rothman dreamed up this sun-drenched slice of divine vampire decadence in hippie-era Cali. Way groovy, in an undead Helter Skelter kind of way.
Blood and Roses (1960)
Art-house sensualist Roger Vadim, whose wives/muses included Brigitte Bardot, Barbarella-era Jane Fonda and Catherine Deneuve, used J.S. LeFanu's Carmilla — the original sapphic vampire tale — to showcase his then-bride, Danish beauty Annette Stroyberg. Sleek, dreamy and coolly sexy; the original title — …et mourir de plaisir ("…and to die of pleasure") — tells you all you need to know.
See Blood of Dracula on AMC at 4AM EST
Read More