Deconstructing Woody – Which Actor Does It Best?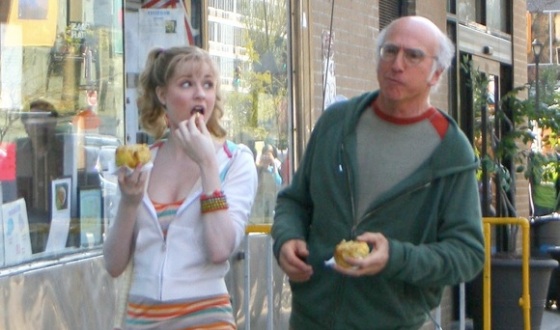 Nobody plays Woody better than Woody — even if sometimes you'd prefer a less geriatric leading man. But since Woody isn't about to get younger and since he's also less prone to star in his movies, how have his various substitutes fared? Let's take a look.
Larry David, Whatever Works (2009)
Has anyone ever been better suited to adopt the Wood-man's nasal twang and signature kvetch? In a word, no. Though David had bit parts in Radio Days and New York Stories, he's finally old enough (and cranky enough) to pinch-hit for Allen big time. The movie's misanthropic physicist Boris Yellnikoff was originally written for the late Zero Mostel. At the risk of sounding morbid, Mostel's death appears to have led to a wiser piece of casting. David is Woody 2.0 as much as anyone can be.
John Cusack, Bullets Over Broadway (1994)
For Woody's Oscar-nominated period piece, Cusack amped up the neuroses and sported unflattering glasses as the intellectual yin to tough guy Chazz Palminteri's yang. But while Cusack's whiny playwright is the straight man to crazies like Dianne Weist's melodramatic leading lady, the actor still geeks up the joint with his excellent portrayal. It's clearly the role Woody would've played (and at his age, ruined) so this movie is all the better with Cusack subbing in.
Kenneth Branagh, Celebrity (1998)
Woody opts out of playing Celebrity's womanizing journalist, but his presence is still felt in Branagh's every twitch and stammer. Indeed, Branagh's performance is more imitation than creation. It's too bad this movie is remembered mostly for Winona Ryder and Leonardo DiCaprio playing version of themselves; Branagh's carbon copy of Woody is the most spot-on impression since Dana Carvey lampooned him on Saturday Night Live. It's like Woody possessed Branagh!
Edward Norton, Everyone Says I Love You (1996)
Though Woody also appears as one of the movie's singing lovebirds, Norton wears a tweed jacket and a terrible nerd comb-over in his attempts to romance Drew Barrymore. Ever the method actor, Norton nails Woody's vocal patterns and body language: You can practically hear him booking a table at Elaine's between takes. It's not quite as inspired as Cusack's turn in Bullets Over Broadway but the material isn't quite as strong either.
Jason Biggs, Anything Else (2003)
Woody briefly attempted to pander to the kids by casting the once red-hot Jason Biggs as his doppelgänger in this forgettable romantic trifle. Christina Ricci fills the requisite love-interest role, while Biggs plays a writer saddled with one of Woody's typical old-Jewish-man names: Jerry Falk. Ironically, Woody thought Biggs, who is Catholic, was Jewish when he cast him. Can you blame him? Still, his lovable persona isn't enough to carry the day. You suspect Woody wishes he'd looked like this when he was younger.
Seth Green, Radio Days (1987)
For his reverie on the Golden Age of Radio, Woody cast a young Seth "Robot Chicken" Green as his scrappy youthful stand-in. The Jewish-raised Green scores his big-screen break here and delivers a sweet, impressive performance in an underrated flick. Runner-up: Jonathan Munk, as young Alvy in Annie Hall, forced to grow up below the Thunder Bolt roller coaster on Coney Island. As Woody, Jr.'s go, Green's a tad better in taking the neurosis into the realm of childhood.
Rebecca Hall, Vicky Cristina Barcelona (2008)
Woody casts a woman as his alter ego for once, turning Hall's Vicky into an intellectual who overanalyzes every moment of her passion-filled Barcelona jaunt. But unlike most of the actors on this list, Hall puts her own stamp on the role, creating a well-rounded character that you actually root for. When paired with Scarlett Johansson's dithering free spirit, Hall is downright lovable, the true heart of the tale. Woody as a woman? Who knew that would prove such an inspired stroke.

Will Ferrell, Melinda and Melinda (2004)
While most of Melinda and Melinda was devoted to Woody turning Radha Mitchell into a modern-day Mia Farrow, Ferrell labors to create a memorable mensch, and ends up with yet another awkward impression. Attention, actors of the world: If you are cast in a Woody Allen movie, stay away from the old stand-up tapes. No one really thought it was a good idea to have gentle-giant Ferrell portray a pint-sized elderly man anyway.
Read More