Daily Scan for 06.09.09 – Lost Teases Charlie, Futurama Returns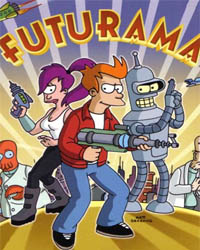 • The new Lost promo shows Charlie telling viewers that he only used to be dead. My guess is they are going to resurrect a bunch of the old characters in an alternate timeline.
• One of the main writers for The Sarah Connor Chronicles has a blog in which he complains, gripes and ruminates about the series' cancellation.
• Michael Bay says the IMAX version of Transformers 2 will include even more robot-shifting goodness. Frankly, if it's confusing on a normal-sized screen, how good can it possibly look on an enormous one?
• After the recent success of the DVDs, Futurama is coming back to Comedy Central for thirteen all-new episodes. Let's just hope the series returns to form, as well.
• Life, The Universe and Sci-Fi lists an excellent primer of science fiction authors for beginners.
• Is there a lot of accurate science in Battlestar Galactica? Well, psychological science, yes… the rest, not so much.
• Terminator Salvation may not have done very well in the US, but it's mopping up overseas… which is where I saw it, and summarily dismissed it as dreck.
Read More