Could McConaughey, Affleck, or Maguire Usurp Eastwood's Crown as Western King?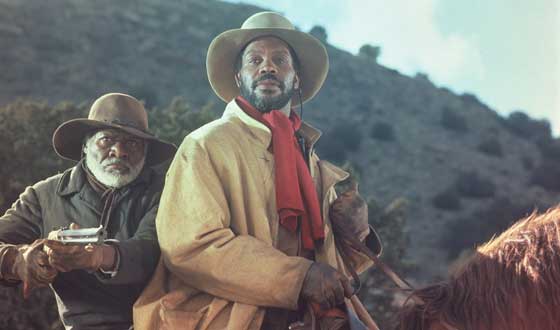 Everyone, it's time to let go. The days of John Wayne, Roy Rogers and Glenn Ford patrolling the frontier in the great Westerns are gone. While some of the great cowboys of yesteryear like Robert Duvall and Clint Eastwood hang on, and some, like Duvall, continue making Westerns, the movie cowboy tradition is in mortal danger. Yet, a surprising group of respected modern actors have made Westerns. Some seem to even have taken to the idea and starred in multiple cowboy flicks. These guys may not look like your typical Western men, they may not go that route often, but they have all given us the cowboy surprise, showing up where you'd least expect them: Out on the open range.

Bill Paxton
Bill Henrickson — sorry, Bill Paxton — has recently reached heretofore unexplored realms of fame on the small screen with Big Love, and while the show does take place in the West, that's not what we're getting at. Before blockbusters like Apollo 13 (1995) and Twister (1996), Paxton played Morgan Earp (Wyatt's less popular brother) in Tombstone (1993). In an odd coincidence (or bizarre choice), Paxton also played another sibling of a legend, Frank James (Jesse's brother), in Frank & Jesse (1995). No word yet on whether he'll play Roger Clinton, Jeb Bush, or Frank Stallone anytime soon.

Billy Bob Thornton
Best known for Sling Blade (1996) and being really, really strange, Thornton, a native Arkansan, has shown an affinity for the Western. Not only did he make an early appearance in Tombstone (1993) but he's starred in two Westerns in the last decade: As a long-haired cowpoke in The Last Real Cowboys (2000) and as Davy Crockett in The Alamo (2004). Despite the down-home accent, if you were picking which actor would play the role of Crockett, Thornton would've probably finished 304th on that list. Surprise!

Casey Affleck
Affleck the Younger has the
honor of being the break-out star of one of the better received
Westerns of this past decade. With his best supporting actor Oscar nom for The Assassination of Jesse James at the Hands of the Coward Robert Ford
(2007), Affleck was part of a rare trifecta. The movie helped give
Western flicks a surprising Oscar showing (along with a couple
of nominations for 3:10 to Yuma), as well as having both the
longest and most plot-giving-away title ever. Affleck's most
surprising and impressive achievement though was hiding the unseemly Boston accent that came in so handy for Gone Baby Gone (2007) and Good Will Hunting (1997).

Christian Bale
Everyone's favorite nutso actor Bale seems like the prototypical man of the future, doesn't he? He's unhinged enough to feel right at home in the post-apocalyptic waste-lands of Terminator: Salvation (2009) and Reign of Fire (2002). Yet Bale also starred with frequent Western actor Russell Crowe in the aforementioned 3:10 to Yuma as rancher Dan Evans, a Civil War vet who gets caught up with no-good outlaw Ben Wade (Crowe). While Bale's Eastwood-esque intensity may seem a natural fit for Westerns, he's defined himself with roles like The Dark Knight and Batman Begins (2005). The trail misses you, Bale!

Danny Glover
Like Thornton, Glover has made more than one stealthy foray out to the Old West in his day. In fact, he's secretly done as much as anyone to carry on the cowboy tradition. Though best known for the Lethal Weapon movies, Glover's resume is replete with Westerns: He's starred in Silverado (1985), Lonesome Dove (1989) and Buffalo Soldiers (1997). Even rarer, Glover's brought strong black characters to the Western, and ones not entirely defined by their race. (Imagine that.) But it's not all serious: Glover made a cameo as a bank robber in Maverick (1994) and delivered his Lethal Weapon trademark line: "I'm too old for this sh-t!"

Ed Harris
If you really get down to thinking about it, Harris seems like a guy who might do well in a Western role. He's gruff and has that classic dusty-trails look, but he's lured his fans into a false sense of complacency over his three and a half decades as an actor. But then what did Harris go ahead and do in 2008? Surprise! He directed and starred in Appaloosa, as late 19th-century lawman Virgil Cole, proving that he's more than comfortable chewing the scenery in old Western garb.

Kiefer Sutherland
Before he was habitually grunting and foiling terrorist plot after terrorist plot, Mr. 24 made an appearance or three in the Old West, most notably with Young Guns (1998). But the bigger surprise is that Sutherland's a repeat offender when it comes to being a cowboy, even if its the modern kind. He took time to star as a rodeo cowboy in the forgotten The Cowboy Way (1994) and then made one more go-round as a bull rider in Cowboy Up (2000). This was all before he hit the big time with an Emmy win (and 5 nominations) for 24, and he's probably hoping everyone's forgotten those roles. No such luck!

Kevin Kline
Glover isn't the only guy to make a surprise appearance in Silverado. In a shocker, the Oscar-winning Shakespearean actor Kline made Silverado his fourth feature film. The flick, which is one of only about four star-studded Westerns in the last quarter-century, helped launch Kline's career. Perhaps to repay the debt to the Western, Kline made another years later; unfortunately, it was the dreadful comedy Wild Wild West (1999). Here's hoping Kline makes one last visit to the West to make up for it.

Matthew McConaughey
In a Western! Strange, right? Despite the Texan roots and accent, McConaughey is the last guy you'd expect to pop up in 1998's The Newton Boys, a more modern, train-robbery Western based on the true-life story of the Newton Gang, a band of brothers who wreaked havoc in the early twentieth century. Could the laid-back McConaughey survive the subtle codes and rough nuances of the Western life? Well, have you ever seen a beach or a set of bongos in a Western? There's your answer.
Tobey Maguire
Civil War westerns are a time-honored tradition. Think Shenandoah (1965) and The Outlaw Josey Wales (1976). Another? The Ang Lee-directed Ride With the Devil (1999),
starring who else but Spidey himself. (Nice bowtie, dude.) That's
right, before he was Spider-Man, Maguire was making do in Civil War-era Missouri as bushwhacker Jake
Roedel. The movie's notable for a bevy of cowboy surprises: Jim
Caviezel, Jonathan Rhys Meyers and Mark Ruffalo. Nonetheless, Maguire, and his character's horrible, horrible, shoulder-length hair, is the biggest shocker here.
Watch Danny Glover in Lonesome Dove this weekend on AMC. Click here for a full schedule.

Read More