Classic Ten – Killer G-Men (Not All of Whom Are Tommy Lee Jones)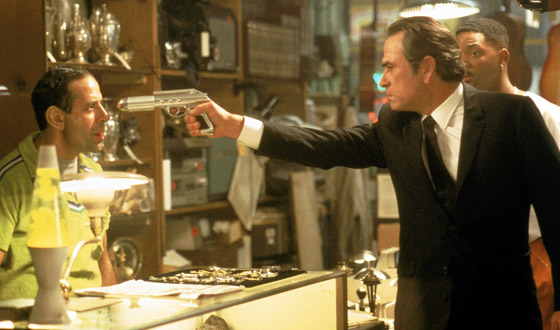 Given their movie mandate to play it close to the vest, federal agents often find themselves playing second banana to the flashier criminals they pursue. But a few big-screen crime-busters manage to steal the spotlight while going toe to toe with their prey. Case in point: Christian Bale, who plays G-man Melvin Purvis in Public Enemies. He has to win us over, otherwise who'd root for law and order when Johnny Depp is the irresistible villain? Here's a lineup of ten more of the toughest law-men ever to grace the silver screen. Move along, folks. Nothing to see here…
10. Chris Cooper, Breach (2007)
Impeccable actor Chris Cooper plays FBI agent Robert Hanssen, a crotchety guy, a fervent Catholic, and a patriot. Oh, and he may just be selling secrets to the Russians. Despite Breach's less-than-splashy performance at the box office, for sheer steely-faced audacity in the face of the long arm of the law, Cooper's agent squeaks onto the list at tenth place.
9. Hugo Weaving, The Matrix (1999)
Law enforcement becomes a lot easier when the government's army of agents is actually shape-shifting "sentient programs" that are "everywhere and nowhere," as Morpheus tells Neo. Even so, Agent Smith stands out. There's the bullet time fight, of course, but he's just as magnificent delivering a soliloquy while administering torture. Hugo Weaving's arch performance earns him a cool number nine.
8. William Petersen, Manhunter (1986)
FBI agent Will Graham (Petersen) has a gift for getting inside the heads of serial killers, including one Hannibal Lecter (Brian Cox), the man who nearly killed him. Now his boss has called Graham out of retirement to work with the sociopath he captured in order to stop another mass murderer known only as the Tooth Fairy. Creepy! That he's up for the fight, which he wins, earns his role in this Michael Mann movie the coveted eight spot.
7. Will Smith and Tommy Lee Jones, Men In Black (1997)
There's something about Tommy Lee Jones's weather-beaten face that makes him a natural to be cast as the long arm of the law. In MiB, he plays Kay, a secret agent paired up with new recruit Jay (Smith) to keep a lid on alien activity on Earth. The space-age weapons they wield while tracking down an extraterrestrial terrorist bent on global destruction are sweet, but it's the duo's wisecracking wit — and those killer black suits — that lands them at number seven.
6. Tom Hanks, Catch Me If You Can (2002)
Leonardo DiCaprio stars in this movie based on the true life story of Frank Abagnale Jr., a scam artist so charming you can't help but root for his escape. Which is why fuddy-duddy Tom Hanks is the obvious choice for Carl Hanratty, the fed in persistent hot pursuit. The odd friendship the agent develops with the criminal — and the fact that he's able to make us like him, despite the competition — catches Can at number six.
5. Kevin Costner, The Untouchables (1987)
The real-life Eliot Ness was a dogged Treasury agent who took on Al Capone in corruption-riddled Chicago. The movie Ness gets tough with the encouragement of an old-school Irish cop (Sean Connery). Even when his own family is threatened, nothing keeps Ness ('80s go-to everyman Kevin Costner) from his quest to bust Capone (Robert De Niro), and it's that integrity that breaks him into the top five.
4. Tommy Lee Jones, The Fugitive (1993)
Heroic Harrison Ford plays the titular role, a doctor wrongfully convicted of murdering his wife who then goes on the lam, but it's our old pal Tommy Lee Jones, here playing sardonic U.S. marshal Samuel Gerard, who steals every scene he's in. The marshal's good at figuring out every step his fugitive makes, yes. But he's also laconic — and funny — as he heads up the team charged with hunting down the wanted man, qualities that help him capture fourth place.
3. Harrison Ford, Clear and Present Danger (1994)
Nobody does clenched-jaw heroism better than Ford (see above). Here he's Jack Ryan, a former field agent who's been promoted to Deputy Director of Intelligence of the CIA. When a secret military mission in Colombia goes south, so does he, determined to figure out who tipped off a drug cartel. Once he finds out the truth, all patriotic hell breaks loose, clinching him the third-place slot.
2. Clint Eastwood, In the Line of Fire (1993)
Eastwood's steely glint has rarely been better harnessed than it is in the role of secret service agent Frank Horrigan. He failed to save Kennedy in 1963, which makes him an old guy, but he's determined never to let it happen again. Too bad a former CIA assassin (John Malkovich) has set his sights on the current Commander in Chief and tells Horrigan as much. His determination to take a bullet rates him an easy second place.
1. Jodie Foster, The Silence of the Lambs (1991)
Hannibal Lecter steals the show with his showboating boasts about fava beans and fine Chianti, but it's fledgling FBI academy student Clarice Starling who's the true star here. Clarice's flinty determination to get him to help her stop a sociopath allows her to play Lecter's game of quid pro quo, crack his clues, and save the day — all before graduation, making her number one in this class of cool-as-ice crime-fighters.
Read More