Classic Ten – Best Big-Screen Bachelor Parties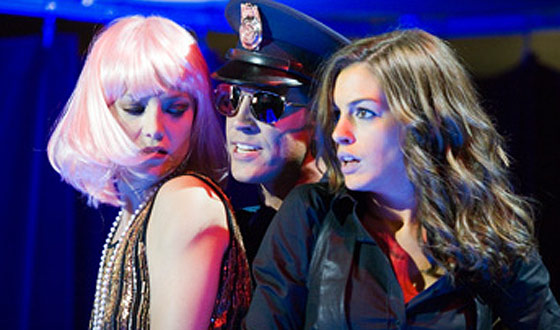 Ah, June. Lovebirds everywhere are anxiously awaiting their nuptials and feeling the pressure from all sides. Is it any wonder that bachelor parties tend to get out of hand? Or, for that matter, that movies like The Hangover continue to mine the tradition for its wacky-shenanigans potential year after year? Let the celebrations in these ten movies, which run the gamut from awkward rehearsal dinners to all-out bacchanals, serve as cautionary tales for the party-planning BFFs of future brides- and grooms-to-be. Or, you know, inspiration. As a wise man once said, "Come on in! Drugs to the right, hookers to the left."

10. The Best Man (1999)
Though its now mostly known as the movie that landed Terrence Howard on critical radars, this ensemble comedy from director Malcolm D. Lee (cousin of Spike) should be required viewing for real-life grooms and their own best men. Featuring boozing, brawling booty-shaking, and a pimpish cat named Fandango, this movie's wild stripper-thon leaves little to be desired. Of course, the real intrigue in this predictable movie comes courtesy of a thinly-veiled novel about the gang written by the titular character (Taye Diggs). Can you guess what happens next?
9. My Best Friend's Wedding (1997)
When her (male) best friend asks her to be his "best man," Jules realizes that she's been in love with him all along. She says yes, vows to bust up the wedding, and ropes in her gay pal George to play her fiance. The bachelor party itself is just a tame ball game with the boys, but the rehearsal luncheon scene nets Wedding a nine because George attempts to shame Jules out of her scheme and gets the bride's entire family singing "I Say a Little Prayer for You." Not raunchy and rowdy enough for your blood? Wait 'til you get to the higher-ranking movies on this list…
8. Mamma Mia! (2008)
Every bachelorette party improves when nearly naked boys crash the bash, which is exactly what happens in Mamma Mia! It's hot but surprisingly wholesome; the raciest moment is when the bride's mom and two pals sing (what else?) ABBA and everybody dances. Clearly that's not the kind of party that would appeal to everyone's tastes, but the movie's salacious back story — three prospective dads vie for ownership of a doe-eyed young ingenue whose mom got around in the sixties! — earns this one its number eight slot on the list.
7. A Guy Thing (2002)
Paul
is supposed to get hitched to Karen in just six days. She's the boss's
daughter, so he tries to behave at his bachelor party. Which makes it
pretty awkward when he wakes up beside another woman the next morning.
Oops! Paul doesn't remember much and so assumes that he must have
cheated on his fiancée and hooked up with Becky, one of the "Tiki
Girls" who danced at his party. Cue the paint-by-numbers romantic
comedy hijinks — Becky is Karen's cousin! Still, Jason Lee's hapless
Paul edges the flick into seventh place.
6. The Marrying Man (1991)
There's
a whole category of Vegas-set bachelor party pictures. Basically, Sin
City plus a groom-to-be equals trouble, but usually what happens in
Vegas stays in Vegas. Not so in seventh-place movie The Marrying Man.
Charley (Alec Baldwin) is all set to marry the daughter of a Hollywood
bigwig, but that doesn't stop him from sleeping with lounge singer
Vicki (Baldwin's then-wife Kim Basinger) during his bachelor binge.
What Charley doesn't count on is her mobster boyfriend Bugsy Siegel,
who insists that he marry Vicki ASAP — to the predictable chagrin of all involved.
5. Bride Wars (2009)
The presence of this movie on this list in no way endorses its views of love, marriage, women's friendships, or anything else. Wars
comes in fifth solely for its toxic bachelorette bash. A scheduling
error puts besties-turned-frenemies Liv and Emma's ceremonies at the
Plaza on the same day, and neither bride will back down. Push literally
comes to shove when Emma crashes Liv's bachelorette party and outdances
her in a contest that involves a stripper pole, a performance that of
course comes back to haunt her.
4. American Wedding (2003)
First comes Pie, then comes marriage. In Wedding,
Jim and band camper Michelle finally tie the knot. The series began
with Jim poking a pie, so their wedding cake is probably pretty nervous
(it should be). Stifler's not invited, but he throws a bachelor party
anyway, hiring French maid Brandi and dominatrix Officer Krystal to
perform at the same house and on the same night that Jim's planned a
dinner with Michelle's parents, of course. Enough bondage-themed
hide-the-strippers hilarity ensues that Wedding clocks in at number four.
3. Very Bad Things (1998)
When a flick is named Very Bad Things,
the audience naturally wants to know just how bad can these things be.
Oh boy. Five guys take a standard-issue bachelor party trip to Vegas —
booze, blow, gambling, and a prostitute. Only the hooker accidentally
ends up dead, and a curious security guard ends up deliberately dead
soon after. The friends decide to cut up the bodies and bury them in
the desert. Some party! For cynically reducing the road to wedded bliss
to a gory exercise in Darwinism, Things cracks the top three.
2. Clerks II (2006)
Count
on Kevin Smith's burger-flipping counter jockeys to get things very
wrong when hiring a stripper for their pal's bachelor party.
Long-suffering Dante's engaged to Emma (although he secretly pines for
coworker Becky). His hetero lifemate Randal is not a fan, but he
decides to send Dante off in style with an after-hours strip show
featuring Kinky Kelly and the Sexy Stud. Only Kinky Kelly (spoiler
alert!) is a donkey, and the Sexy Stud is a leather daddy. It's tough
to beat bestiality, and yet…
1. Bachelor Party (1984)
This
eminently quotable flick has everything: It stars a pre-sainthood Tom
Hanks! The bride's ex tries to sabotage the celebration using a
crossbow! Her disapproving dad ends up gagged and in bondage gear!
There's a she-male named Tim! Party even outdoes Clerks II's
donkey show by having its poor mule do lines before it drops dead
mid-party. Ah, the cocaine Eighties. What other movie could possibly
occupy the top spot?

Read More