Cat Girl Fans, You're in Luck: Ten New Horror B-Movies Now on AMCTV.COM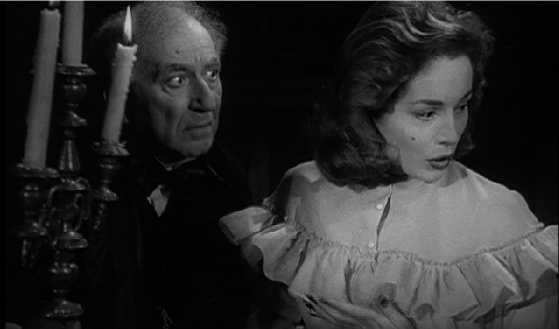 Clear your calendar: AMC is adding ten new weird and wonderful horror movies to its online B-movie channel. The highlights include the elusive Cat Girl (1957), a variation on the ever popular girl-into-panther theme that stars Hammer Horror fave Barbara Shelley in the shiniest black raincoat this side of your local fetish wear shop. You can't get Cat Girl on DVD and an out-of-print videotape will run you a pretty penny (and seriously, do you even have a working VCR?). Who cares! You can now satisfy your cat-like curiosity on AMC for free.
While you're at it, why not schedule a double bill with super-sleazy (and I mean that in the best possible way) ventriloquist's dummy picture Devil Doll (1964), which features Shelley's fellow Hammer starlet Yvonne Romain. It's also newly available.
Afterward, try a stylish Euro-fright-flick two-for-one of The Playgirls and the Vampire and Slaughter of the Vampires. Curse of the Voodoo, with Bryant Halliday (Devil Doll's psycho hypnotist); psychological shocker Violent Midnight, with Sylvia Miles and James Farentino; the Boris Karloff thriller Haunted Strangler; Voodoo Woman, with '50s AIP starlet Marla English; Roger Corman's The Undead; and The Crawling Eye round out the new additions.
Come on. You know sometimes you just need to see a movie with crawling, tentacled eye-aliens bedeviling puny humans in the Swiss Alps, especially one that looks uncannily like a run-through for Stephen King's The Mist.

Read More