Uncategorized
Flashback Five – Farrah Fawcett's Finest Movie Moments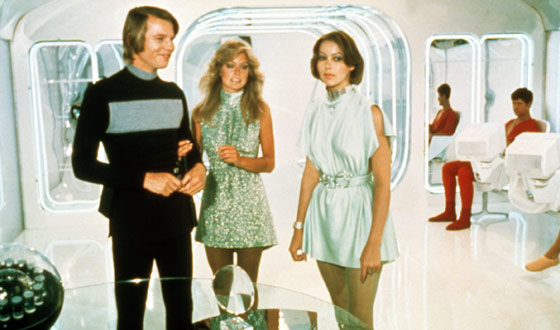 Farrah Fawcett will probably always be known as Jill Munroe, the sexy Charlie's Angel with the fantastically feathered hair, but the late actress also had a long and successful career in the movies. For all those fans who can't get over the passing of this swimsuit-clad stunner, consider our greatest-hits list a gift — and an homage.
1. The Apostle (1997)
Most people remember Robert Duvall's challenged minister as the linchpin of The Apostle, but it was Fawcett's cuckolded wife who commanded the screen. At 50, Fawcett not only created a sensation with a Playboy pictorial, she captured an Independent Spirit Award nomination as Best Actress for her role in this flick.
2. Extremities (1986)
Having already achieved success on TV in the woman-in-danger genre, Fawcett took the persona to the big screen, portraying a woman who's tortured, mentally and physically, by an assailant in her own home. Anchoring a cast that also includes Alfre Woodard and James Russo, Fawcett received a Golden Globe nomination for her role.
3. The Cannonball Run (1981)
On the flip side of Extremities, Fawcett here portrays Pamela Glover, a kidnapping victim forced into cahoots with her captors (Burt Reynolds and Dom DeLuise) in order that they can enter the highly contested Cannonball Run. She's a photographer who loves trees, and that's just part of the joy of the movie. Fawcett showed a gift for comedy here that she didn't get a chance to revisit often enough over the course of her career.
4. Logan's Run (1976)
Fawcett takes part in a small but crucial scene in this sci-fi classic as Holly, a hostess at a face-changing facility in an unnamed futuristic city. It's a minor role, but it's worth a second look, if only to realize how well she fills out the sparkly minidress she dons for the role.
5. Love Is a Funny Thing (1969)
Fawcett's first big-screen role was in the French movie Un homme qui me plaît, or, as it was released in the U.S., Love Is a Funny Thing. Though Fawcett's role was small, it was a portent of things to come: she played a young, blossoming movie star.
Honorable Mentions:

1. Small Sacrifices (1989): Her last Golden Globe nomination for Best Actress found Fawcett as a woman with a troubled home life.
2. Poor Little Rich Girl: The Barbara Hutton Story (1987): Fawcett was again nominated for a Golden Globe for her portrayal of one of the richest, saddest women in America.
3. Nazi Hunter: The Beate Klarsfeld Story (1986): The true-life story of Nazi hunter Beate Klarsfeld was made for television with Fawcett in the lead — and once again saw her nominated for, you guessed it, a Golden Globe.
4. The Burning Bed (1984): The harrowing tale of a woman who finally deals with her husband's domestic abuse by setting him on fire was portrayed with searing reality by Fawcett.
5. Saturn 3 (1980): Featuring at-the-time groundbreaking special effects, Fawcett held her own against heavyweights Kirk Douglas and Harvey Keitel.

Read More