Who's the Dummy? (And We Don't Mean the Blonde): Men, Madness and Ventriloquism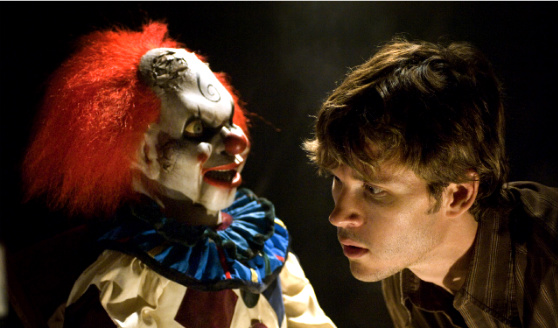 Ventriloquists' dummies are scary. Ventriloquists are scarier. Believe me, I've spent enough time at the movies to know that anyone whose thoughts are so poisonous they can only be expressed through a wooden homunculus is someone of whom to steer well clear. We're talking cross the street, screen calls, block from your Facebook account clear, and if you don't, well then, the answer is you're the dummy. But don't take my word for it: Watch and learn from these seven shocking tales. Oh, and don't call these sidekicks "dolls." Trust me. Regular guys are touchy about their toys; nut jobs are downright dangerous.
The Great Gabbo (1929)
Based on a short story by acid-tongued newspaperman-turned-screenwriter Ben Hecht (The Front Page) and starring Erich von Stroheim, the Austrian-born writer-actor-director whose "respect my authori-tay" ways earned him the nickname "the dirtiest hun in Hollywood," this tale of maladjusted cabaret artist Gabbo is Exhibit A in the history of madmen and mouthpieces. Gabbo's seething hatred of the world and everyone in it pours from the wooden mouth of his dummy, Otto, which somehow convinces everyone his vitriol is just an act. It's not.
Dead of Night (1945)
The gold standard by which all "who's the dummy" tales are judged, this short, sharp shocker features Michael Redgrave as the delicately handsome, thoroughly unbalanced Maxwell Frere, who's locked in a losing battle with the dummy he calls Hugo. Thinking of it as a run through for Psycho (1960) makes Maxwell's decline into sheer insanity madness just that little bit creepier.
Triloquist (2008)
What would you get if you crossed Natural Born Killers with the grim, modern-day fairy tale Freeway? Well, mad movie scientist, you might produce something very like Mark (Leprechaun) Jones' tale of three siblings whose late mom — a part-time ventriloquist and fulltime junkie, messed them up but good before checking out on the floor of seedy motel — on a surreal road trip down the highway to Hell. Need I say that one of them — the one whose voice-over narration puts a rose-colored spin on their blood-spattered adventures — isn't flesh and blood? You're learning!
Devil Doll (1964)
Ventriloquist/hypnotist (it's always good to have something to fall back on…) "The Great Vorelli" sees busty heiress Marianne (1960s Hammer starlet Yvonne Romain) as his ticket out of a life of low-rent gigs in regional flea pits. Marianne's nosy boyfriend gets in the way, but the real obstacle to Vorelli's plan is his homicidal partner, Hugo, who isn't about to get packed away in a trunk without a fight. This sleazy, sleazy, sleazy UK variation on the theme is a must see.
Dead Silence (2007)
Saw creators James Wan and Leigh Whannell tried to break away from torture porn with this thriller about small town whose dirty little secrets are all rooted in the long-ago the murder of a ventriloquist. Let's face it: The take-away lesson: Ventriloquists are like cockroaches — if you don't stomp them thoroughly the first time, you'll just have to do it again.
The Ten (2007)
Wait — David Wain and Ken Marino's vulgar, profane, something-to-offend-everyone riff on the ten commandments is a comedy, right? Yeah, sure… but it features Winona Ryder having carnal knowledge of a ventriloquist's dummy and if that's not scary, I don't know what is. Excuse me while I try to purge that image from my fevered brain.
Dummy (2003)
So, by now you're probably wondering whether anyone has ever made a movie about a disturbed introvert who communicates through a dummy that doesn't end in tears. Well, funny you should ask — Oscar-winner Adrien Brody starred in this offbeat tale of a suburban misfit who weathers his personality crisis through ventriloquism. Awwww, that's sweet, in a creepy kind of way… and the dummy is still the stuff of nightmares.
For a glimpse of the madness Anthony Hopkins tapped into before he played Dr. Lecter, see Magic May 23 at 3:30AM EST on AMC; click here for our full movie schedule.
What's your favorite ventriloquism movie? Click here to vote.
Read More