When Movies Tackle Reality TV, Reality Bites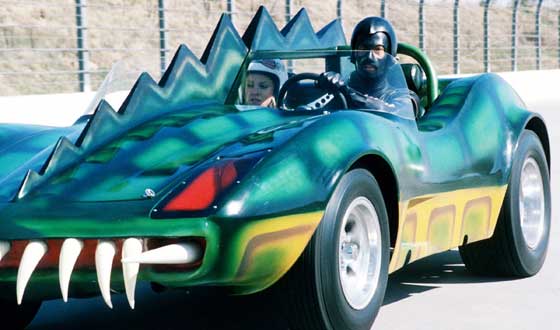 How low can Reality TV go? Funny you should ask, because filmmakers were wondering exactly that way back before there even was such a thing as The Amazing Race or Survivor wherever.
Suffice it to say that we haven't yet caught up to the sexadelic style-meets-left-wing politics of Elio Petri's The 10th Victim (1965), based on a 12-year-old short story by Brooklyn-born scifi writer Robert Sheckley. In the future, murder is both fun and profitable. Anti-social types sign up for top-rated TV show "The Hunt" and try to go ten rounds — five as hunter, five as prey — without getting killed: Winners get rich; corporate sponsor Ming Tea gets richer; TV audiences get hooked. Austin Powers fans, Note Ursula Andress' bullet bra and sponsor Ming Tea, which gave its name to Powers' band.
Death Race 2000 (1975)
Paul Bartel's 1975 scifi flick revolves around a televised spectacle that channels road rage into couch-potato voyeurism: Drivers include Sylvester Stallone as "Machine-Gun" Joe Viterbo and David Carradine as Frankenstein. Don't forget. You'll get extra points for running down pedestrians!
Series 7: The Contenders (2001)
Fast forward to this pitch-perfect parody in which six contenders are picked from a nationwide lottery, armed and set loose to kill each other. You may recognize Will Arnett's voice as "The Contender." Faux sincerity doesn't come better.
My Little Eye (2002)
This one's a bracingly cruel variation on Big Brother in which five young people must live together in an isolated house for six months; screenwriters David Hilton and James Watkins crack what may be the toughest nut of old-dark-house thrillers — providing a plausible and compelling reason why the victims-to-be don't leave the minute scary things start happening — and the persistent whir of closed-circuit camera lenses adjusting focus as they track the housemates is creepy as hell.
Halloween: Resurrection (2002)
In this chapter of the franchise, six college students move in the old Haddonfield, Ill., Myers place for a reality show called "Dangertainment." How does that work out for them? Duh… not so well. But as Halloween sequels go, at least it's clever.
Cruel World (2005) and Killer Movie (2008)
And then it's on to the Edward Furlong-Jaime Pressley movie Cruel World (2005), in which a reality-show reject rewrites the playbook, and Killer Movie (2008), directed by real-life reality TV veteran Jim Fisher, in which a reality show shoot gets just a little too real for all involved.
Which is where I say, stop the Real World, I want to get off!
What horror movie about reality TV is your favorite? Click here to vote.
Don't miss Pinata: Survival Island on Sat., May 30 at 1:30AM |12:30C on AMC. Click here for the full schedule.
Read More