What to See – Ghosts of Girlfriends Past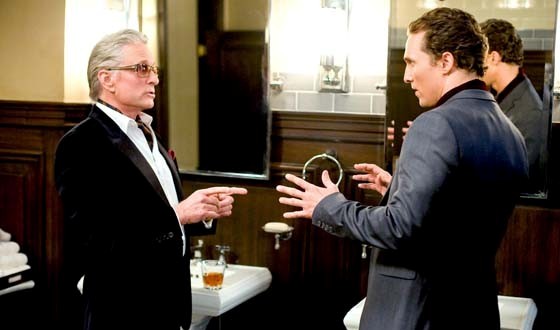 Ghosts of Girlfriends Past" width="560″/>

The Ghosts of Girlfriends Past misses, regrettably, more than it hits — but if there are two things that make it catch your eye and pay attention, it's fearless comedic work from Michael Douglas and Emma Stone ( Superbad , The Rocker). The pair play two of the specters plaguing womanizer Matthew McConaughey the night before his brother's wedding. McConaughey's Connor Meade is written a little too broadly — I can buy he's a player, but not that he'd be clumsy enough to break up with three women at the same time via conference call, for example. But since Douglas and Stone are ghosts, they get plenty of slack… and they run with it all the way to the end zone.
Douglas's Uncle Wayne is the Marley to McConaughey's Scrooge.
The character may be called Uncle Wayne, but, really: Take in the jacket, the hair, the shades — it's Douglas
playing famed producer/raconteur/womanizer Robert Evans, right down to
the scotch-swagger mannerisms and the velvet croak voice. Even before
we get to see Douglas' Uncle Wayne in action as a ghost and in
flashbacks, he's built up as a force of nature. Connor points out a
room off Wayne's bedroom, asking "Do you know Dean Martin slept in that
bathroom?" Uncle Wayne is the man who taught Connor the pick-up trade,
including an 8th grade field trip to the local bar where he
demonstrates Neil Strauss-level gamesmanship (" … give 'em two
compliments… and then a knock, keep 'em off balance.") and how
to look at women without looking at them. ("Remind me to tell you about
reflective surfaces, kid.") It's an old line, but Douglas makes a
feast out of that gnawed-down bone.
Since he's not the hero of the movie, we don't have to have any sympathy for Wayne, and Douglas, liberated from that expectation, goes nuts with it — Wayne's a pretty shallow guy, and even his repentant advice that Connor change his ways is delivered with ring-a-ding Rat Pack charm. Douglas used to be a guy who carried movies, and if now his age means he can't do that anymore, it's nice to see him do supporting work like this with giddy, shameless glee. (There's even a great, corner-of-the-screen gag later on — as Connor's haunted with the sight of his own funeral, Uncle Wayne's headstone, viewed peripherally, has the epitaph: "Uncle. Friend. Player.")
Equally shameless — and equally fun — is Emma Stone's work as the spirit manifestation of Connor's '80s-era first kinda-sorta-sex-partner, a giddy, braces-clad, curly-haired teen clad in two different kinds of acid-wash denim and black lace Madonna gloves who tours Connor through his past mistakes. When she takes Connor back to his 8th grade dance, he stumbles towards the vision of his lifelong love Jenny (who grows up to be Jennifer Garner) in her youth; she starts doing the "Safety Dance" ("You can dance if you want to."), ineptly, in the background. When Connor asks 'What's next?" Stone's reply is flat-out perfect: "Now we're going to watch a romantic montage of you and Jenny set to Cindy Lauper's "Time After Time." Too on the nose? Perhaps? Funny? Definitely. Maybe the biggest irony in Ghosts of Girlfriends Past is how two dead characters give the film its biggest moments of comedic life.
For a different take on Ghosts of Girlfriends Past, check out the movie review at AMC Filmcritic.
Read More