Web Stalker – Think Words Can Never Hurt You? Pontypool Has Something to Say About That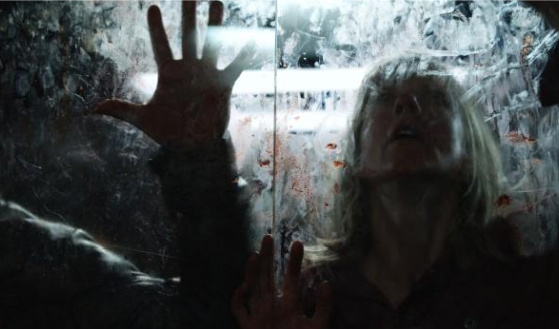 They say talk is cheap, but in Pontypool — the acclaimed Canadian zombie picture IFC is about to unleash on US audiences — talk is deadly. Words twist and morph into a sort of mental virus that transforms their hearers into mindless, bloodthirsty creatures, and in this world where words trump guns, an early morning shock jock is either the deadliest man in town or the savior of us all.
Bruce McDonald's Pontypool — the first horror film by the iconic (here in Canada, anyway) director of Hard Core Logo — is one of the hottest genre titles to emerge from the home of David Cronenberg and Vincenzo Natali (Cube) in years, having earned awards and acclaim everywhere it's been shown. But you know, McDonald must be happy that in the real world talk genuinely is cheap, because word of mouth is virtually the only publicity his movie has received. Fortunately, there's been a lot of it.
Say one of a nation's most popular and acclaimed filmmakers launches a new project — would you expect, perhaps, an announcement in the trades? A well-placed publicist reaching out to key media outlets? Hah! Word of Pontypool first appeared online in June 2008, a mere three months before its world premiere at the Toronto International Film Festival; Bloody Disgusting somehow picked up word that it was in production from, of all places, a Toronto-based all news radio station. Most people had no idea Pontypool existed until the following month, when the first press releases announcing that MacDonald's movie was part of the Toronto line up went out. The initial word reached a small audience, but those who noticed were already excited:
"Pontypool Changes Everything is an extraordinary novel, and Bruce McDonald is a fantastic director. I imagine this marriage is going to make one hell of a film," wrote bonnequin (Twitch).
"I read the book a LONG while back and it's very weird, very cool," concurred Kabukiman(Bloody Disgusting). "With Bruce McDonald at the helm, this is gonna be really cool."
The first stills appeared in August, but otherwise all was quiet on the word-zombie front until September rolled around and Pontypool unspooled in front of an audience… a very enthusiastic audience. "I liked the film so much, I did something I've never done at TIFF in the decade I've been going," said Kurt (Twitch). "I saw the same film twice in the same week." High praise indeed. The concensus post screening consensus was that a novel concept combined with one hell of a performance from Stephen McHattie (you know him as the older Night Owl in Zack Snyder's Watchmen) made for compelling viewing. So compelling, in fact, that Pontypool was later named one of Canada's Top Ten films of the year.
The first trailer — timed to the Canadian release — arrived the next month, showing in front of Saw V, and thanks to the wonders of technology the rest of the world got a taste of what Canadian audiences already knew. The reaction abroad was just as strong: "This is the first I've heard of this movie, but wow I like what I see. It's nice to see someone using the 'what you don't see can be scarier than what you do see' bit." (ShadRS, io9); "Oh my god. Thank you Canada." (Ben Umstead, Twitch); "Wow that looked freakin sweet. Reminds me of 28 days later mixed up with the signal." (flesheater123, Bloody Disgusting).
With the trailer out of the way, Pontypool made its way to America via a midnight screening at the South by Southwest film festival. The verdict? Again, strongly positive: "Pontypool relies more on the vague suggestions of a mass, unexplainable catastrophe just beyond our realm of awareness – not unlike M. Night Shyamalan's Signs, but much, much better." (Eric Kohn, Indiewire; "a smart and ambitious film about the power of language … hidden beneath the guise of horror." (Rob Hunter, Film School Rejects)
But will word of mouth be enough to sell this deconstruction of the power of word of mouth? Time will tell … IFC is rolling it out in limited theatrical release and on VOD starting May 29.
Read More