Web Stalker – Is Insta-Sensation Mega Shark vs. Giant Octopus This Year's Snakes on a Plane?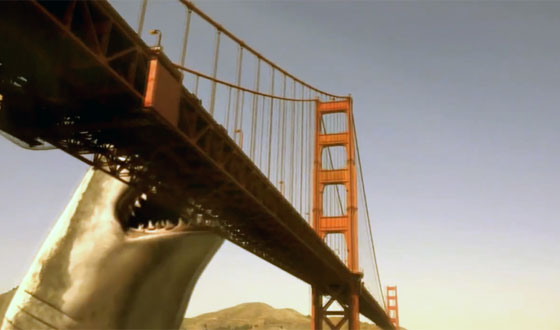 Mega Shark vs. Giant Octopus?
The cheapie disaster-movie throwback, starring Deborah Gibson (yes, that Deborah Gibson) and Lorenzo Lamas, pits the two ancient, gargantuan creatures of its hilariously literal title against one another in a battle to the death that leaves endless human carnage and large-scale destruction in its wake. Who's responsible for such a wondrous feat of artistic achievement, you ask? Why, The Asylum, of course, the low-budget mockbuster production company responsible for such winking non-hits as Transmorphers (2007), The Day the Earth Stopped (2008) and, of course, the brilliantly opportunistic Snakes on a Train (2006). But never underestimate the power of gigantic sea life and a go-for-broke trailer…
Until recently, Mega Shark vs. Giant Octopus seemed destined to share space in the bargain bin with those other obscurities (no offense). As one early commentator summed it up on the movie's IMDb page in January, "The Asylum goes 3D? They couldn't even handle 2…and what IMAX [theater] would put this into rotation?" Funny how a question can lose its irony over time. A blogger over at Bloody Disgusting soon posted some stills and enthused about "the awesome looking Mega Shark vs Giant Octopus, which by the looks of the image below, will be one f–king crazy over-the-top direct-to-disc release."
Unfortunately, those were lonely voices in a sea of deafening silence until last week, when MTV posted an exclusive video of the movie's trailer with the bold invitation to Feast Your Eyes on the Amazing 'Mega-Shark vs. Giant Octopus' Trailer!"
That fortuitous entry amassed a reported million hits in the days that followed, plus another couple of hundred thousand once the trailer was reposted to YouTube. And commentators across the internet began stirring up anticipation for the movie's over-the-top delights. Commentator Steven-N-Thomas took to IMDb with a post titled "So bad it's gonna be hilarious!!!" that neatly summed up the overwhelming majority of online opinions. "Come on," he exclaimed, "What more do you want, this movie has everything to make it a D-movie legend…. This movie has Lorenzo Lamas and Debbie Gibson (who still looks hotter than ever), AND giant sea creatures!!! I just saw the trailer, it's hilarious, you have the shark eating the Golden Gate Bridge and jumping out of the water so high that it eats a 747 out of the sky….and the squid can just bat fighter jets out of the sky. D-movie Classic in the making."
Most of the trailer's detractors were clearly the kind of fans who take their monster movies a bit more (too?) seriously. Said one who goes, appropriately, by the name CinemaSuicide, "Please DO NOT encourage The Asylum! For the love of god! No matter how absurd this premise sounds. No matter how completely insane that photo is, this movie will have absolutely zero redeeming value. This is how it will go down: 80 minutes of people running and walking. An excruciating volume of filler. 10 minutes of supremely awful CGI. 5 Minutes of actual mega shark vs. giant octopus The Asylum's producers laugh all the way to the bank with your money."
You can't really argue with that assessment and no-one is. But it wasn't long before Gibson herself took public notice of the phenomenon, tweeting, "I've never even been scuba diving and sea creatures are causing a stir in my career (?!?) So funny!"
Gibson's blog was updated on Sunday, advising her fans to see "who is currently the number two most searched item on Yahoo! right now!" That's right, "Deborah Gibson," and — spoiler alert! — the uptick wasn't due to a sudden resurgence in the popularity of "Electric Youth."
Stars have made comebacks based on less and at least some reviewers have called out Gibson's performance as one to watch. Said the PopMatters film blog that same day, "with its amazingly sloppy CGI, uproariously illogical plot points (a shark vs. a 747?) and ludicrously lame acting, Mega Shark vs. Giant Octopus becomes the kind of instant camp classic we just don't get from the standard cinematic stool sample… But it's Gibson that holds the whole thing together, her wide eyed wonder matched with a former pop star's presence to draw us into and through this numskullduggery."
Of course, internet hype is a fickle beast and "laughing with" can become "jeering at" in the click of a mouse. Still, could Mega Shark vs.Giant Octopus be the next movie to ride ironic popularity to dvd-sales gold? You are hereby advised to monitor the movie's suddenly popular Facebook page for developments.
Read More