Web Stalker – Can Piranha's Charm Extend to 3D and a Third Director?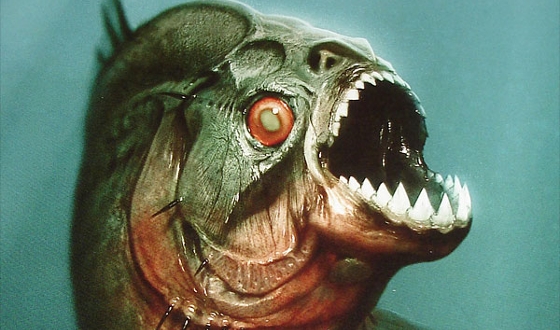 Piranha's Charm Extend to 3D and a Third Director?" width="560″/>

Argh! The hungry little fish are coming back! For a series of films about man-eating fish, the Piranha pictures have had a ludicrously charmed life. The original Roger Corman production had Joe Dante ( Gremlins ) at the helm, working from a script by John Sayles ( Lone Star ). The sequel? Oh, you know, just the first feature directed by James Cameron, who would follow it up directly with The Terminator . And now that remake-hungry Hollywood has gotten their hands on it? Hotshot French director Alexandre Aja ( Haute Tension , The Hills Have Eyes ) is at the helm with a cast that includes not one but two Oscar-winning actors plus one with a Golden Globe! All this fuss for some hungry little fishies …
Whatever you may think of Alex Aja's Hollywood output — I'm on record saying that he's squandering his talent on remakes — there's no doubt that this is a big movie. Piranha 3-D — yes, the toothy fish will be coming off the screen right at you — has been a hotly anticipated title from the day it was announced, Aja's legion of fans salivating at the thought of what the master of blood and tension could do at the reins of an unrepentantly grindhouse creature feature.
Talk of the film began in March of 2007 when IESB first broke word that Aja was attached. Official confirmation came a couple of days later, Aja saying that his goal wasn't a straight remake; he wanted "to create a completely new adventure paying homage to all the creature films that made me fall in love with the genre. It is the ultimate popcorn movie that pits beer soaked, sunburned spring breakers against killer, bloodthirsty animals."
Whether or not fans particularly bought Aja's "it's not really a remake" line, it's one he's stuck with consistently. Aja would end up making Mirrors before moving on to his fish tale, but a year after Piranha was announced and while he was editing his Kiefer Sutherland ghost story, Aja told FEARNet that "Piranha is about killing drunk kids. It's a completely different story and it's not a remake at all. There is not a link to the original movie besides the fish. And even our fish are quite different. It's really like a new take on doing a movie about Piranhas. It's set during spring break and it's about killing drunk teenagers with prehistoric fish." Legendary effects man Greg Nicotero put it even more simply when talking to Bloody Disgusting: "Piranha is pretty straight forward. It's 'Girls Gone Wild' with boobs and blood and piranhas. You can't really mess that up." Fan response? "If Aja can capture all three in one shot…he's sitting on horror movie gold." (joannacalled, Bloody Disgusting)
So. We've got the Girls Gone Wild of horror films in the works: Who to cast? Some pretty young thing plucked from the stack of nubile starlets-in-waiting? That would be the obvious route, but no. Would you believe Oscar winner and former adventurous babysitter Elizabeth Shue? Strange but true, and the news broken by Moviehole rapidly spread throughout the online world, where it was met largely with silence, confusion or comments like this: "Let's just hope Aja doesn't tarnish Elizabeth Shue as much as he did Kathleen Quinlain. What's he got against actresses nominated for Oscars in 1995?" (BurmaShave, WorstPreviews). The cast took on more surprising star power with the additions of Oscar winner Richard Dreyfuss — reportedly spoofing his role in Jaws — and Golden Globe winner Ving Rhames. Which you've got to admit is a pretty strange cast for a 'Girls Gone Wild' film. Just keep your shirt on, Richard… I don't wanna see 'em.
And now it comes down to waiting. The film's winter shoot was pushed back to spring, which means it should be shooting right about now. And for all that this is one of the more anticipated films out there, there are also those offering words of warning, perspective and restraint:
"Alexandre Aja has directed 5 movies, only 3 of which are horror. And 2 of those 3 horror films are "remakes." … That's it. That's all we've got from him … Now that we've got Aja's contributions to horror in perspective, just how the f–k is this guy supposed to be the messiah of horror? How are so many people inspired to s–t their pants at the sound of his name? … This guy is basically the cinematic equivalent of a ventriloquist; just making cute noises through other peoples' movies." (Wharmon, Bloody Disgusting)
Golden child or flavor of the month? With one Hollywood hit and one flat-out flop to his credit, Aja has a lot riding on Piranha 3-D.
Read More