Video
Chris Rock's Good Hair Finds a Home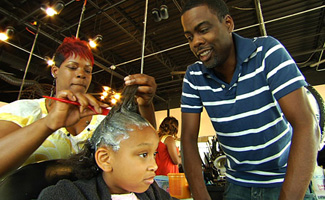 Chris Rock's documentary Good Hair, which premiered at this year's Sundance Film Festival has been picked up for distribution by Roadside Attractions and Liddell Entertainment. Rock co-wrote, co-produced and starred in the doc directed by Jeff Stilson.
In Good Hair, Rock travels as far as India to get the low-down on the history, culture, maintenance, and self-esteem issues associated with African-American hair and hairstyles. The project was inspired when his daughter Lola asked him, "Daddy, how come I don't have good hair?" Rock talks with Ice-T, Kerry Washington, Nia Long, Paul Mooney, Raven Symoné, Maya Angelou and Reverend Al Sharpton to find a good way to respond to Lola's surprising question.
While visiting barbershops, beauty shops, styling "battles," hair shows, scientific labs and foreign countries, Rock discovers just how corporate the African-American hair business is. "It's no different than the banana business," Rock muses.
Back in January, AMC News correspondent Jacob Soboroff sat down with Rock at Sundance to talk about the documentary, which ended up winning a Special Jury Prize at the festival.
The week leading up to the interview we thought it was going to be postponed because Rock scheduled it during Barack Obama's Inaugural… during the actual "hand-on-the-bible" part. But Rock, along with the documentary's executive producer Nelson George and actress Nia Long, showed up for the interview. As stoked as we were to talk with Rock, thankfully he stopped the interview during the latter part of Obama's swearing-in and we all watched history being made. Check out how it all went down:
Flash_embedSWF("http://media.www.amc.com/video-players/amc-viral-2009-bc2.swf","amc_oneclip_amcnews","#ffffff",460,390,"bctid=8795704001&s_url="+document.URL+"&s_referrer="+document.referrer);
Good Hair is produced by HBO Films. Roadside will release the movie domestically in the fall.
Read More