Tribeca Film Festival 2009 – Movies Coming to a Theater (or TV) Near You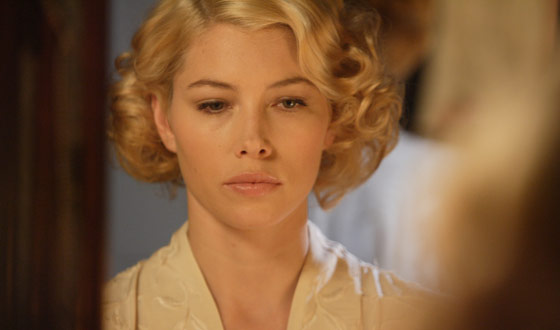 Last week I wrote about some of the cool behind-the-scenes
moments during
the shooting of our AMC
News Tribeca Film Festival
Special.
I wrapped up my post by saying, "…go and seek out their films when they
hit your local theater soon." Well, now some of you can (especially in L.A.
and NYC) starting this weekend!
This Friday marks the release of director Kirby Dick's Outrage — a controversial
documentary about allegedly gay politicians who
hypocritically campaign and vote against the gay community. During the
festival, AMC News Correspondent Jacob
Soboroff sat down
with the director for
an interview about
this dicey topic.
Also hitting select theaters this weekend is the Spanish-language comedy Rudo
y Cursi that reunites Y Tu Mama
Tambien co-stars Gael García Bernal and Diego Luna as stepbrothers who work
on their family's banana ranch and play on a local soccer team… until a
professional league comes calling. It's made the rounds on the festival
circuit this year, screening at Sundance, AFI Dallas and the San
Francisco International Film Festival.
The new Spike Lee joint Kobe Doin'
Work — a
documentary following L.A. Lakers guard Kobe Bryant during an entire
game day – premieres May 16 on ESPN and then on DVD shortly after. May
22 is release day for Easy Virtue
— a film adaptation of the Noel
Coward play starring Jessica Biel, Kristen
Scott Thomas and Colin Firth. Also new that weekend is Steven Soderbergh's The Girlfriend
Experience starring
adult film star Sasha Grey as a Manhattan call girl.
June releases include festival-closer, My Life In
Ruins, on June 5, Moon (another festival
circuit regular) starring Sam Rockwell on June 12, and Woody Allen's Whatever
Works with Larry
David, Evan Rachel Wood and Patricia Clarkson on June 19. Allen's film, a
return to New York filmmaking after shooting his last four in Europe, kicked
off this year's festival.
If you're wondering about other festival favorites like The
Eclipse,
Defamation or Fish
Eyes — they've been
picked up for distribution but don't have release dates yet. Check out the
Tribeca Film Festival's full list of movies hitting theaters and TV
soon.
Now go and buy some tickets.
Read More