Tribeca Film Festival 2009 – It's a Wrap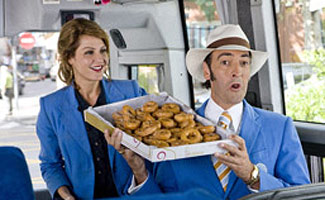 Two weeks of film fun, and now we're done.
Some of the buzz was on the mark (The Eclipse walked away with a last minute six-figure deal from Magnolia Pictures), but there was room for surprises, too. The Chinese film Fish Eyes took nearly a week of negotiations but went home with a deal from Benten/Watchmaker.
And then there's the awards — which may help some films get much deserved attention, such as Here and There, winner of Best New York Narrative. The director Darko Lungulov and his various Serbian producers and crew on the film threw a celebratory party at the Lower East Side bar Kafana on Saturday night to bask in the afterglow. Lungulov and his producer George Lekovic told AMC News that they were taking Here and There to Japan next.
We managed to squeeze in a lot of films in our AMC News Special (which, if you missed it, will be available online later this week; the full show will also repeat on Fri., May 15 at 5:45AM so set your DVRs!). But there were many films (outside of headliners like Woody Allen's Whatever Works and Nia Vardalos' My Life in Ruins) that didn't make the final cut that are still worth checking out, if and when they get distribution. Our recommendations: the now-award-winning About Elly, Handsome Harry, and My Last Five Girlfriends. Enjoy…
Read More