Uncategorized
Tribeca Film Festival 2009 – My Life in Ruins's Rachel Dratch Aspires to Be Annoying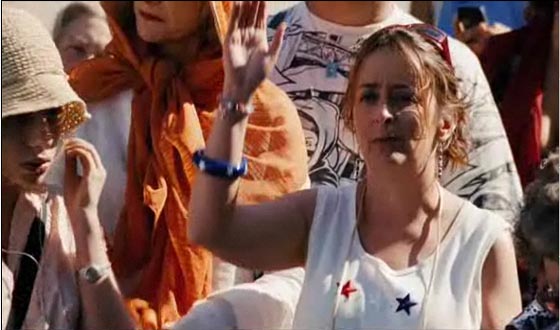 My Life in Ruins's Rachel Dratch Aspires to Be Annoying" width="560″/>

In My Life in Ruins, former SNL funny lady Rachel Dratch plays a member of a ragtag group being led by Nia Vardalos (My Big Fat Greek Wedding) on a bus tour through Greece. She chatted with AMC News about the stereotypical American tourist, the down side of shooting at the Acropolis, and her new musical that — might be — headed to Broadway.
Q: How did you become involved with this movie?
A: Nia Vardalos (My Big Fat Greek Wedding) and I both worked at The Second City in Chicago, at different times — but I had gotten to know her and her work. And, as the years went on, we became better friends. So when this part came up in her movie, she pegged me for it.
Q: As the loud American tourist?
A: She's that kind of stereotype with the white sneakers and the money
belt and the video camera and the regular camera and the visor and all.
The kind of tourist we've all encountered in our travels. So at least I
didn't have to do any research.
Q: Director Donald Petrie ( Miss Congeniality )
said he "cast people who could play the stereotype, yet evolve into a
full human being." How does your character evolve?
A: You know, I don't know. I haven't seen the movie yet. Actually, I'm
curious to know how I turn out. I think I kind of become a little less
annoying as the movie goes on. But, annoying equals funny. Have you
seen it?
Q: Yeah, you're just as funny in the end.
A: Oh, phew, thank you.
Q: You and Harland Williams (Employee of the Month) make quite a couple. Was this your first time working with him?
A: Oh, yeah. This was my first time with Harland. He definitely has a
unique sensibility. He's kind of a crazy dude. But in a good way.
Q: It's a motley cast of characters to be trapped on a bus with. Have you ever been on one of those travel group tours?
A: I have not. I've done some bike trips, but that's a whole different
clientele. The good thing is while shooting, the cast all got along
really well. A lot of us didn't have many lines on a lot of days. When
I looked at the script, I thought I would be off gallivanting all the
time. But I realized when I got there, we're actually in every scene —
just in the background. It kind of became a joke: Oh, who has lines today?
So we got used to just hanging out together. The couple that plays the
Australian couple, they're hilarious! They kept me laughing a lot.
Q: Shooting in Greece sounds like a pretty good gig. Had you been there before?
A: No, this was my first time in Greece. So that was an extra bonus to
getting the part — getting to go to all those cool locations. We
actually shot in Spain too. A lot of times, Spain doubled for Greece. I
mean, we were at the real
Acropolis. But the locations had been pre-arranged to shoot at through
the Greek government and everything. So we had to work hard to get all
the shots in — we didn't really have much hanging out time there. Not
as much as I thought I would. I kind of thought I was going on a paid
vacation.
Q: So what else do you have cooking?
A: Well, I just did an episode of Ugly Betty that airs in the end of
May. I got to play twins in that, so that was really cool. And I did
this musical, believe it or not. It's called Minsky's and it's by the writer of The Drowsy Chaperone, the music is by Charles Strauss. We did a run in L.A. over the winter. It's supposed to go to Broadway — we'll see.
Click here to watch the movie trailer »
Read More