Tribeca Film Festival 2009 – So Many Stories That Mattered to AMC News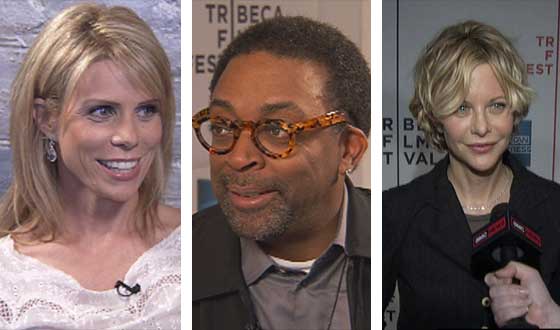 As the behind-the-scenes producer for AMC News, I've already covered four film festivals this year with my AMC News partner in crime, Jacob Soboroff. We've been to Sundance in Utah, SXSW and AFI Dallas in Texas, and on Thursday, we just flew back to Los Angeles after shooting nine days in New York City at the eighth annual Tribeca Film Festival.
For me, a former New Yorker, the Tribeca Film Festival is especially unique because it was born from tragedy. It was founded by Robert De Niro and his producing partner Jane Rosenthal and Craig Hatkoff in 2001 shortly after the 9/11 attacks. Their goal was to help heal the economic, cultural and emotional damage inflicted upon lower Manhattan — particularly in the TRIangle BElow CAnal Street neighborhood known simply as Tribeca. Since its inaugural year in 2002, the festival has had over 2 million attendees, generated over $425 million for New York City, and provided independent filmmakers an incredibly luminous and powerful venue to tell their stories.
Sitting through all the interviews Jacob conducted at this year's Tribeca Film Festival, I listened to numerous moving stories from actors, directors and producers who were so passionate about their projects, the stories they wanted to tell, and the risks they took to get their films made… and into the festival.
Jacob interviewed director Spike Lee on our first day about his Kobe Bryant documentary, Kobe Doin' Work, which documents a game day in the life of the great L.A. Lakers guard. I was fascinated listening to Spike talk about how risky it was to have 30 cameras set to record one Lakers game only — and how it would all have fallen apart if Kobe had gotten injured or was fouled out of the game. That's ballsy filmmaking… And on a personal note, he's a friendly guy who shakes everyone's hand when he walks into an interview. Class act.
It was especially endearing to watch Jacob's interview with Cheryl Hines. She came to the festival not as an actress, but as a director with her feature film debut, Serious Moonlight, starring Meg Ryan and Timothy Hutton. The film was written by her good friend and Waitress co-star — the late Adrienne Shelly who was murdered in 2006.
Hines was very candid about how terrified she was in her new role and how she sought out directing advice during her shoots from veterans like Barry Sonnenfeld (via text message!). But, for Hines, it was worth the risk because she loved Shelly's story so much and wanted to do right by her late friend's vision.
First-time director Jake Goldberger's story about landing Thomas Haden Church in the lead role for his film Don McKay was an awesome tale to listen to as well. Goldberger, who's in his 20s, wrote the script with a main character who's in his 40s. He thought actor Thomas Haden Church from Sideways would be perfect for the role, so Goldberger sent his script to Church's agent. In the interview they did with Jacob on our set, Church said he was so amazed by the layered character Goldberger had created that he decided to avoid all the "my people should call his people" route and just called Goldberger directly. Goldberger said he waited something like eleven hours for the phone call, but it came through, they spoke, and now here they both are at the festival promoting their Don McKay film which is getting good buzz.
During our nine days shooting at the Tribeca Film Festival we heard more amazing filmmaking accounts from Danny Glover, Evan Rachel Wood, Woody Allen, Julianna Margulies, Larry David, Libby Spears, Andy Garcia, Mandy Stein, Matthew Broderick, Eric Bana, Patricia Clarkson, and Barry Levinson… all of whom have films screening in this year's festival. Each shared with us their moments of inspiration, passion, and risk-taking that is indicative (and required) of independent filmmaking. I was stoked watching all these interviews and hearing stories of big-time stars diving into uncharted territory and unknown talent risking everything for a script they believe in.
Set your DVR now for our AMC News Tribeca Film Festival Special premiering on Friday, May 1 at 11PM | 10C and you'll be inspired as well. Then go and seek out their films when they hit your local theater soon.
Read More