Tribeca Film Festival 2009 – About Elly and Racing Dreams Nab Top Awards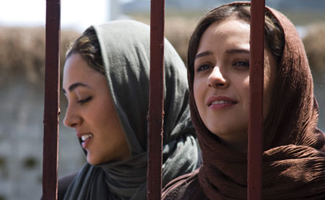 On Thursday night, Tribeca Film Festival co-founders Robert De Niro and Jane Rosenthal were joined by jurors Todd Haynes, Debra Messing and Rachael Ray to present this year's awards. Besides the prizes handed out to movies in world competition, two prizes were awarded to New York films.
"I am delighted that we have awarded films from such diverse origins; helping to launch careers, establish names and tell stories that would otherwise not be told. I wish all of the filmmakers continued success and hope that they continue to bring their works back to Tribeca," said Rosenthal.
The Founders Award for Best Narrative Feature: About Elly (Darbareye Elly), directed and written by Asghar Farhadi. (Iran)
Best New Narrative Filmmaker: Rune Denstad Langlo for North (Nord), written by Erlend Loe. (Norway)
Best Actor in a Narrative Feature Film: Ciarán Hinds in The Eclipse (See interview)
Best Actress in a Narrative Feature Film: Zoe Kazan in The Exploding Girl
Best Documentary Feature: Racing Dreams, directed by Marshall Curry
Special Jury Mention: Defamation (Hashmatsa), directed by Yoav Shamir. (Denmark, Austria, USA, Israel).
Best New Documentary Filmmaker: Ian Olds for Fixer: The Taking of Ajmal Naqshbandi.
Best New York Narrative: Here and There (Tamo i ovde) directed and written by Darko Lungulov.
Best New York Documentary: Partly Private, directed by Danae Elon.
On Saturday night, the Heineken Audience Award was handed out to the comedy City Island. (See an interview with star Andy Garcia and director Raymond De Felitta.)
For a complete list of winners, go to the festival site.
Screenings of all winning films will take place at AMC Village VII on Sun., May 3. Check the festival schedule for details.
Read More