The Kid Stays in the Picture, Especially When Played by a Man Like Jason Segel or Adam Sandler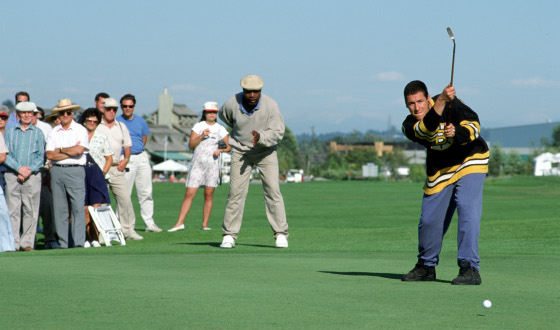 Are we in a golden age of man-child comedies? Blockbusters like I Love You Man and Knocked Up suggest so. Of course, the man-child has been a fixture of comedy since the days of Harpo Marx. Judd Apatow didn't invent the type; he's continuing a tradition. Read on for a look at some of the most memorable men-children — or would that be man-childs? — acting out today.
Will Ferrell, Elf (2003)
Unlike most Will Ferrell characters, Buddy has a good reason for his wide-eyed innocence: He was raised in the North Pole by elves. Whether eating discarded chewing gum, or congratulating a restaurant for having the "world's best coffee," Buddy's adjustment to city life is pretty hilarious. Childlike in the purest sense of the word, Buddy ends up putting Christmas cheer in the hearts of embittered New Yorkers. (Zooey Deschanel with her sweet singing voice and puppy dog eyes certainly help.)
Steve Martin, The Jerk (1979)
Born a poor black child in the Deep South (or so he believes), Navin Johnson remains one of Martin's best comic creations. Possessing the intelligence level of a 5-year-old, Johnson thinks snipers are out to get cans (not him) and the ultimate honor a person could have is getting their name in the phone book. Martin's guileless performance in his star-making role is still emulated by everyone from Jim Carrey in Dumb and Dumber to Steve Carell in every role he's ever had.
Martin Short, Clifford (1994)
No mere man-child, Short's Clifford is a 10-year-old brat who happens to be played by a man (and who could give The Omen 's Damien a run for his money in the creepy demon child department.) His sole purpose in life seems to be terrorizing his beleaguered uncle Martin (Charles Grodin), and Short plays such a convincing mini-monster that at one point Grodin compels him to "look at me like a human boy!" Come to think of it, Clifford is really a horror flick for kids.
Jason Segel, I Love You, Man (2009) and Forgetting Sarah Marshall (2008)
How do we know Segel's Peter Bretter and Sydney Fife have serious cases of arrested development? Their hobbies include Rush concerts, bodily function humor, and composing rock operas about Dracula. Who could forget Marshall's infamous break-up scene, where Kristin Bell dumps Segel while he's completely nude and bawling his eyes out? Meanwhile, in I Love You, Man, Sydney picks fights with Lou Ferrigno and shows Paul Rudd's Peter his sweet "man cave" — stocked with Rush gear, naturally. Over the course of only two movies, Segel has delivered a master class in manchild-itude.
Adam Sandler, Billy Madison (1995)
From Saturday Night Live to comedy albums to movies like The Waterboy and Punch Drunk Love , Sandler has offered a veritable cornucopia of man-children. But it's Sandler's first solo feature, Billy Madison, that remains his pièce de résistance of overgrown babyhood. Not only does he repeat every school grade in a span of weeks, he gives one of the best bathtub performances ever with his famous "shampoo vs. conditioner" debate. Stop looking at me, swan!
Robin Williams, Hook (1991) and Jack (1996)
Few actors indulge their inner child as regularly as Williams. (You can count on one hand the films in which he doesn't act like a hyperactive 9-year-old.) But it was in Jack where Williams got to play a literal man-child in the form of a 10-year-old boy with premature aging disease. The result was more somber than amusing. On the flipside, Hook allows Williams to shine. Watching his progression from sad-sack middle age lump into flying, food-fighting pirate is enough to make you believe in fairies that look suspiciously like Julia Roberts.
Tom Hanks, Big (1988)
Whether through magic skulls or wish-fulfillment dollhouse glitter, everyone from Judge Reinhold to Jennifer Garner has tackled the venerable "young person stuck in an adult body" genre. But the gold standard is Hanks in Big. No one before or since has been as believable as a kid inside a grown-up. For the ultimate in youthful puncturing-of-adult-logic moments, look no further than the scene where Hanks cuts down a corporate shark's lamely transforming skyscraper toy with a simple, "I don't get it."
If you're a fan of man-child comedy, don't forget to check out Happy Gilmore on AMC.
Read More