Ten Movies to Make You Squirm… In French, No Less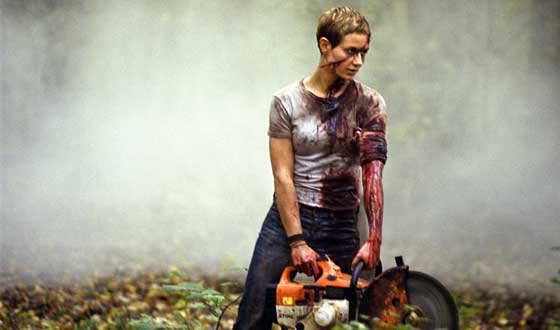 The French love horror. They loved Edgar Allan Poe more than his fellow Americans did. They invented splatter theater more than 100 years ago: Eli Roth could have been a superstar if he'd written plays for the Theatre du Grand Guignol. And the French have always loved horror movies. They take them as seriously as they do Jerry Lewis… um, scratch that last part. So if the French love horror movies so much, how come for decades they only made a handful of (admittedly choice) shockers themselves? Beats me. But these days they're kicking cul and taking noms, and Hollywood is snapping up their bloody young things wholesale. Here are ten films that made the world take notice.

Martyrs (2008)
Pascal Laugier's shocker was accused of being the ultimate in torture porn, and people regularly walked out of theaters (it's coming to US DVD in April). He's currently in talks to take on the upcoming remake of Clive Barker's Hellraiser, and 20th-Century Fox just picked up the rights make a U.S. version of Martyrs.

Inside (A L'Interieur) (2007)
A pregnant woman is terrorized by a stranger who invade her house and kills anyone who might be able to help. What the stranger wants (and why) made directors Julien Maury and Alexandre Bustillo's bloody nail-biter the talk of the town. Neither the Hellraiser remake nor the upcoming Halloween 2 worked out for them (Pascal Lugier and Rob Zombie, respectively, are currently attached to those projects), but Hollywood wants them.

Frontiers (Frontiere(s)) (2007)
Writer-director Xavier Gens blew all the U.S. remakes/remixes/reimaginings of The Texas Chain Saw Massacre out of the water with this harrowing account of five friends who flee riots in Paris' mixed-race banlieues only to stumble into the clutches of a backwoods clan Leatherface would hesitate to mess with. 20th-Century Fox snapped him up for the stylish Hitman.

Them (Ils) (2006)
Writer-directors David Moreau and Xavier Palud took the old "besieged by strangers" formula and polished it into such a white-knuckle thriller (complete with no way! twist) that I can even forgive them the hoary "based on a true story" come on. They've already directed the U.S. remake of The Eye and P2, a girl vs. psycho tale set in a deserted parking garage and co-written by Alexandre Aja. I predict scarier things to come.

They Came Back (Les Revenants) (2004)
American genre filmmakers had left zombies for dead when writer/director Robin Campillo put a quietly chilling, oh-so-French spin on the cliches: The walking dead as massive social services problem. Where will they live? Can they reclaim their old jobs? Do their relatives have to take them in? What, if anything, do they want?

Switchblade Romance (Haute Tension) (2003)
Sure, Alexandre Aja's brutal tale of one girl's stand against a serial killer owed a little too much to Dean Koontz's novel Intensity. But damn, it moved like a freight train. Hollywood instantly tapped Aja for a new version of Wes Craven's The Hills Have Eyes and the K-horror remake Mirrors. Next up: Piranha 3-D.

Lips of Blood (Levres du Sang) (1972)
Actor-writer-director Jean Rollin started making vampire movies that unfolded at the nightmare intersection of class and crass in the late 1960s, but his masterpiece Lips of Blood perfected the mix of sex and surrealism. He's the patron saint of arty shockmeisters. Watch the movie. You're dared not to love it.

Blood and Roses (Et mourir de plaisir) (1960)
Director Roger Vadim made his name by putting sexy women (like first wife Brigitte Bardot and another wife Jane Fonda) into ooh-la-la movies. When he adapted J.S. Le Fanu's delicately suggestive vampire tale Carmilla, he put the lesbian bloodsucker stuff front and center. Everyone followed his lead, naturellement.

Eyes Without a Face (Les Yeux Sans Visage) (1960)
George Franju's chilly, elegant exercise in poetic horror outraged mainstream critics, who deplored its images of a monomaniacal plastic surgeon trying to repair his daughter's ruined beauty by grafting other girl's faces onto hers. Horror fans have been shuddering with delight for almost 50 years. Which side are you on?

Diabolique (Les Diaboliques) (1955)
The movie that burned Alfred Hitchcock's butt. Henri-Georges Clouzot's thriller with-a-supernatural-kicker in which a man's abused wife and jaded mistress team up to kill him, only to have the body vanish, got such ecstatic reviews that the master of suspense felt compelled to defend his title. The result: Vertigo, from another novel by Diabolique's Pierre Boileau and Thomas Narcejac, and Psycho.
Read More