Read Them If You Dare – Best Horror Movie Taglines Ever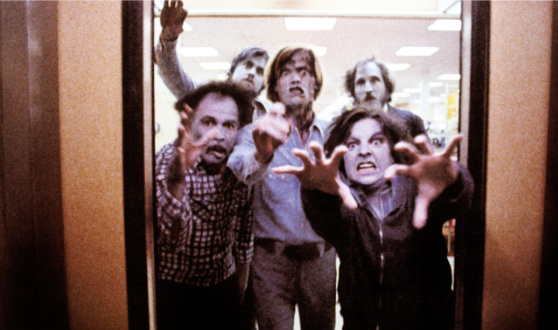 Ah, the scent of mentholated salve in the air can only mean one thing: It's time for another dose of "I'm old and here to yell about how everything was better back in my day!" Case in point: The venerable and all-but-forgotten art of the tagline. They weren't all gems, but once upon a time taglines were seriously committed to getting our butts in the theater seats by promising lurid hyperviolence and sights best seen by the eyes of Satan himself.
I love the ones that draw me into the world of the film, that make it seem as if the killer is going to leap off the screen and kill me to death. Here are ten of my personal favorites: The ones that have stuck with me, the ones that frightened me and the ones that simply made me say "Ugh, I really gotta see that movie!"
In no particular order…
1. Last House on the Left: To avoid fainting, keep repeating "It's only a movie…It's only a movie…"
2. Alien: In space, no one can hear you scream.
3. The Fly: Be Afraid. Be very Afraid.
4. Night of the Creeps: The good news is your date is here. The bad news is…he's dead.
5. Dawn of the Dead: When there's no more room in Hell, the dead will walk the Earth.
6. Maniac: I warned you not to go out tonight.
7. The Mutilator: By pick, by axe, by sword. Bye Bye!
8. The Prey: It's not human… and it's got an axe!
9. The Texas Chain Saw Massacre: Who will survive, and what will be left of them?
10. Abby: Abby doesn't need a man anymore… The Devil is her lover now!
Really, how could you not want to see Abby after reading that? It's a classic exploitation come on, and it works: The movie is begging to be witnessed!
Several of these films have been remade, and the efforts of today's marketing teams pale by comparison. Take, for example, The Texas Chain Saw Massacre: Granted, the original boasts what just might be the greatest tagline in horror history and the remake would be hard pressed to top it. But "Inspired by a true story?" That's what constitutes a terrifying teaser in 2003? For shame! Or The Amityville Horror: The original ads screamed "For God's sake, get out!" Which of course meant, "For God's sake, I have to get in there now!" The 2005 remake: "Based on a true story." Oh, yeah, I'm positively wringing my hands with fearful anticipation.
It kinda feels like no one's really trying anymore. Attention spans are shorter, everyone is multitasking and taglines aren't going to make or break a movie, so who cares if they stink? They increasingly seem to have been crafted from magnetic poetry sets; just make sure to include a couple of standard words — "evil," "face," "terror," "alive" — and call it a day. Is some cranky old horror blogger going to reminisce years from now about how great it was to be hooked and reeled in by the tagline from The Fog (2005)? Probably not: "From the makers of Halloween" just doesn't have the staying power of, say, "Sometimes dead is better" (Pet Sematary). But that's life.
I've barely scratched the surface here, so look for more in a future column, along with at least one list of real stinkers. And share your favorites and unfavorites below — there's nothing like a trip down someone else's memory lane.
A fan of horror movies and scary stuff, Stacie Ponder started her blog Final Girl so she'd have a platform from which she could tell everyone that, say, Friday the 13th, Part 2 rules. She leads a glamorous life, walking on the razor's edge of danger and intrigue.
Read More