Uncategorized
Q&A – When It Comes to His Top Ten Movies, Ron Perlman Names 13 (and We Don't Argue)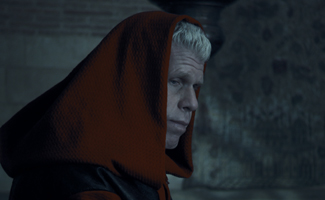 Ron Perlman, a.k.a. Hellboy weighs in on the Superheroes tournament (part of AMC's homage to heroes this month) and lists his favorite flicks of all time.
Q: As you know, we've got a Superhero Tournament this month. In the following match-up, who would win? Hellboy or Punisher?
A: Well I would never bet against either of us. I would definitely never bet against Hellboy, because the Punisher is human and Hellboy is a demon and superhuman. Nothing against Tom [Jane] or the Punisher, but let the chips fall where they may, baby.

Q: Just curious while I have you on the phone, what are your ten favorite movies?
A: I brought a list with me to that event. And I left it there! It took
me a long time to compile because I wanted to give it a lot of thought.
I can remember a bunch of them right now that were on the list: Godfather, Citizen Kane, Lawrence of Arabia, Grapes of Wrath, — these have no particular order, by the way, with apologies to the other 800 masterpieces that I will not mention — Gunga Din, Sullivan's Travels, Mr. Smith Goes to Washington, Pan's Labyrinth, Philadelphia Story, Beauty and the Beast (the Cocteau version), On the Waterfront, The Producers (the original version) and City Lights.
Q: That's more than ten…
A: F— it! We're talking about the greatest movies of all time, baby! Those are thirteen of the best ten movies ever made.
Read More