Uncategorized
Q&A – Nia Vardalos Loses Her Mojo Prior to My Life in Ruins (and Loves It)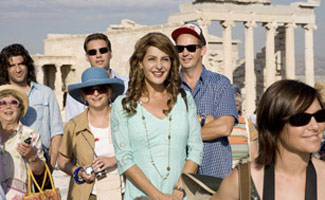 In My Life in Ruins, Nia Vardalos plays a woman who goes to Greece in search of her "kefi" — or mojo. As the star tells AMC News, what she learned while shooting is sometimes life has a strange way of mirroring fiction.
Q: Greece. Romantic comedy. Sounds like a tailor made fit. Were you originally set to star in this movie?
A: I was actually writing at the time. I had been hired by Tom Hanks and Universal to write a script for Tom. I was at their [Rita Wilson & Tom Hanks'] company one day and I mentioned "Hey, this script came to me, through my rep. It's about a tour guide who goes to Greece and falls in love." I told them I'd like to work on the script a little, maybe add to it. I thought it would be very difficult to get permission from the Greek government to shoot at places like the Acropolis, but it would be fascinating if we did. They decided to executive produce. And, slowly, going back and forth to Greece and begging the government for permission, I had to admit I wanted to play the role.
Q: Is this the first time you starred in movie you didn't write?
A: Yes, and it's joyous! People were like, "Really, another Greek role?" And I was like, "Yeah!" 'Cause guess what? I don't get offered a lot that I don't write. It's not like Martin Scorsese is always calling me. I had to write my own movie (My Big Fat Greek Wedding) in the first place because I didn't look like Nicole Kidman — and fact is, I still don't. And the crux of the woman losing her mojo in My Life in Ruins was exactly what I was going through at the time.
Q: You had lost your "kefi"?
A: I was banging my head against the brick wall of infertility for ten years. And when the clinic told me in 2004 that there was no hope, I retreated from acting. I was a little fearful about doing this role, but I had to do it. And in the end, I found my own mojo again: I had two films back to back… and then my daughter came to me through American Foster Care. So I've been telling everyone: Lose your mojo a little bit, you come out really refreshed!
Q: You've also become quite the celebrity in Greece.
A: Alexis [Georgoulis] is like the George Clooney of Greece. And then with the two of us together — it was a paparazzi festival! If I gestured to him and my hand happened to touch his shoulder, the cameras would start flashing and we were in all of the magazines: Something's going on between these two! Then they would insert a picture of my husband [actor Ian Gomez] — the most forlorn-looking picture they could find — looking at me like, How could you?! It was hysterical. I mean, my parents were on the set the whole time! They're actually in the movie — as is my husband.
Q: We talked to your co-star Rachel Dratch and she mentioned that you shot in Spain too. Were you trying to pass Spain off as Greece?
A: Ha! No. We had to shoot the interior shots there because there aren't any sound stages in Greece. Well, there are, but they're all used for television year-round. So we had to put the tour bus in a sound stage, because we couldn't pull this huge bus through the streets of Greece. I probably shouldn't reveal this, but all the stuff you see me pointing to outside the bus is actually all green screen. Otherwise, the shots never would have matched.
Q: Next up is another romantic comedy, I Hate Valentine's Day. In it, you team up again with your Greek Wedding co-star John Corbett…
A: I'm truly a romantic at heart. That's why I write these movies. Here's my secret: You want to kiss a cute boy? Write it, ladies! It was also my chance to direct too. It was an indie experiment. The question was: Could we shoot this film with a budget of, like, 150 rupees? And could we shoot it in 18 days? I called all my friends. I called John and barely got the title out and he said "I'm in!" Then Rachel Dratch, who is an old friend from Second City. It was so much fun. Directing, and acting, and writing, and doing everything else on the set, is like jumping into an orgy while you're still shaving your legs. But now I'm wondering: What could I do with a real budget?
Read More