Uncategorized
Q&A – Director Peter Bogdanovich Finally Gets Five Minutes of His Movie Back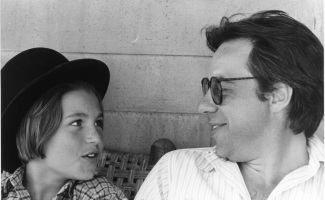 There are directors who have experienced spectacular rises and equally spectacular falls, but some — like Peter Bogdanovich — have pulled off the trickier task of enduring, withstanding success and failure while still producing new work as their older triumphs grow in stature. His 1971 debut The Last Picture Show and 1976's Nickelodeon, were made available Apr. 21 on a new double-feature DVD. The director spoke with AMC News about the two movies and what's next.
Q. Nickelodeon is finally available in a black-and-white director's cut with this DVD. What took so long?
A. Well, I always wanted it to be in black and white because it would be better able to convey the period — 1910 to 1915. [Cinematographer] László Kovács and I kept in mind that we might one day be able to print the color [film] into black and white, and eventually we did. We finally convinced the powers-that-be to let us put the DVD out in both versions — the color and the slightly longer black-and-white version.
Q. The rhythm of the jokes somehow feels more satisfying in the black-and-white version. Is that because with black and white, we slip into a different mode of viewing?
A. There's nothing to distract you; Ryan [O'Neal's] blond hair and blue eyes don't distract you, and you focus on the action in an easier way. That's why the funniest movies ever made were silent comedies — Buster Keaton, Harold Lloyd, Charlie Chaplin. It focuses the attention in a different way, and color is distracting for that sort of thing.
Q. The other thing I took away from the black-and-white cut of Nickelodeon was how much it made me miss John Ritter. You have a great ensemble (including Burt Reynolds and Brian Keith), do you have any stand-out memories?
A. Well, I loved John, he was my dearest friend and I miss him daily. That was the first time we worked together. He read for me, back when he was 19 or 20, for The Last Picture Show. I got out-voted about using him; I would have liked to. (Nickelodeon) was the first of three pictures we did together, and he was so funny and fresh, and he just couldn't make a wrong move. He was one of the best actors I've ever had to work with. Everybody was good; the ensemble was good. We had Harry Carey Jr. from the John Ford days, and Tatum [O'Neal] was back from Paper Moon . It was a good group.
Q. Why is it that some directors like yourself and William Friedkin embrace DVD extras, and others, like David Lynch and Woody Allen, don't seem especially interested? Is it just a matter of temperament?
A. I guess so; maybe David doesn't have anything to fix in his movies. Some of my movies were compromised whether before, during or after production — the cutting wasn't what I wanted — and some of them I wouldn't touch at all. Some of them, like Nickelodeon or Mask or The Thing Called Love , I think, required some additional tinkering. The Last Picture Show, in fact, I had it fixed from the original version, and I think it's a better film.
Q. Is this DVD the final version of The Last Picture Show?
A. Yes. I don't intend to touch it again. This is the perfect print; they fixed up the black and white, they digitally cleaned it up and did a great job with it. The sound has been re-mixed, and it has the additional six minutes, so, it's in very good shape. Film ages — we took some of the age out of it.
Q: You made The Last Picture Show as a much younger man. Has your perception of the film has changed over time?
A. Well, I'm proud of it. I feel we did a good job. There's not much that I would change, except what I did change by adding the stuff back. I didn't have complete control of the editing of the initial version — well, I did, but they asked me to cut it down to under two hours, and I did. But I've always thought it was five or six minutes too short; they wanted them back, and I did so gladly.
Q. What are you working on next?
A. I'm not sure; there are four things we're juggling, and one of them will go soon, I guess. They're very different. One is sort of a modern Western, one of them is a love story with a sad ending, one of them is a screwball comedy and one of them is a ghost picture. They're very disparate, and I'm not sure which one will go first.
Q. If someone were interested in seeing three films that would help them understand what you consider great about movies, what would you recommend?
A. Well, that's tough. [Long pause] That's tough. As Winston Churchill used to say, "I need notice of that question."
Read More