Now or Then – Angels and Demons or The Name of the Rose?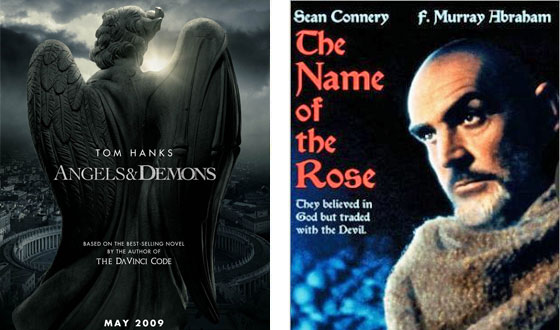 Angels and Demons or The Name of the Rose?" width="560″/>
Now: Angels and Demons
(2009)Then: The Name of the Rose (1986)
People in robes running through dark alleyways. Unknown footsteps in big, empty churches. And, of course, unbelievably gruesome deaths, often involving branding and torture. The movies sure do love them some religious thrillers. This week, Tom Hanks reprises his role as Robert Langdon for Angels & Demons, Ron Howard's follow-up to The Da Vinci Code. (Both are, of course, adaptations of Dan Brown's best-selling novels.) This time around, Langdon has to save the Vatican from an ancient group that's threatening to destroy it within 24 hours. His efforts may recall Sean Connery's travails in director Jean-Jacques Annaud's 1986 chiller The Name of the Rose, in which the former 007 played an aging Franciscan monk trying to solve mysterious deaths at a Benedictine abbey during the Middle Ages. So, which of these religious thrillers will make you see the light?
A Maverick Detective
Angels & Demons: Symbologist Robert Langdon, who doesn't have many fans at the Vatican after he revealed that Jesus Christ got married and had a kid in The Da Vinci Code.
The Name of the Rose: Franciscan Brother William of Baskerville (get it?), an iconoclastic and brilliant monk, whose views have put him in hot water with the ultra-conservative Inquisition.
Verdict: The Name of the Rose. We love Tom Hanks, too — but he's no match for a Medieval combination of James Bond and Sherlock Holmes.
A Powerful, Mysterious Missing Object
Angels & Demons: The Illuminati have stolen some anti-matter (also known as "the God Particle") and are threatening to set it off, which could cause an apocalyptic explosion that will wipe out the Vatican and much of Rome.
The Name of the Rose: Someone is hiding Aristotle's fabled Second Book of Poetics, which discusses comedy — and anyone who reads it is dying mysteriously.
Verdict: The Name of the Rose. Aristotle beats bad movie science, every time.
Symbolic Deaths
Angels & Demons: Someone is killing Papal candidates according to the Illuminati elements of earth, air, fire, and water.
The Name of the Rose: Monks are winding up dead in ways that coincide with the prophecies of the Apocalypse in Revelation, convincing everyone that the Antichrist is on his way.
Verdict: A tie. The grisly deaths give Angels a genuinely dark undercurrent, but it's hard to shake some of the images in Rose — particularly the sight of a dead monk in a giant vat of pig's blood.
The Winner
The Name of the Rose. Angels will definitely make more money, but this spine-chilling mystery is the gold standard of religious thrillers.
Read More