Not From 'Round Here… Cowboys Who Pop Up Outside the Old West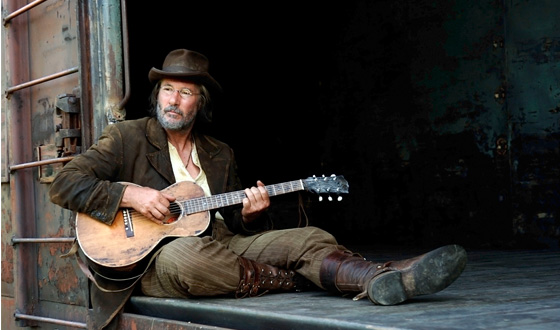 Cowboys might feel most at home lounging at the local saloon or fighting outlaws in an embattled frontier town, but their adventures are hardly restricted to the Wild West. Of course, in other movies they're usually used to add a touch of culture clash to the mix. Case in point: In Night at the Museum and its 2009 sequel Night at the Museum: Battle of the Smithsonian, Owen Wilson plays Jedediah, a lovable cowboy who plagues post-millennial museum guard Ben Stiller by continuing to whoop and holler despite his rarified surroundings. What other cowboys have made their marks in non-Western movies?
I'm Not There (2007)
This disembodied Bob Dylan
biopic features Richard Gere as one of the singer's numerous personas:
Billy the Kid. But what's more interesting is that it takes place in a
bizarre, dream-like Bob Dylan version of the Wild West — a rustic
netherworld full of carnival performers and non sequiturs. Compared to
the other portrayals in the movie, Gere's strays furthest away from the
facts of Dylan's life, but nails the hodgepodge of Americana that forms
his worldview.
The Big Lebowski (1998)
The Coen brothers have dabbled in everything from film noir to Capraesque fables, but they've yet to make a Western. The closest they've come so far is No Country for Old Men which, along with The Big Lebowski, at least displays some affection for Western accoutrements. In Lebowski, Western steady Sam Elliott plays The Stranger, who narrates the L.A.-set film with his trademark gravelly voice, and who winds up in a bowling alley to offer some sage advise to Jeff Bridge's Dude. (Another favorite moment from the brothers is Billy Bob Thorton's cornpone pronunciation of Ro-dee-yo Drive in Intolerable Cruelty.)
Toy Story (1995)
Sure, this cheerful animated movie might seem lightweight compared to Midnight Cowboy
(the first X-rated film to win Best Picture). But Pixar's G-rated tale
nevertheless mines similar themes as that film, following another
boytoy cowboy — in this case, spurs-a-jangling action figure Woody —
who finds himself increasingly out-of-date in the modern world. (These
turbulent feelings are given rise by new-toy-on-the-block Buzz
Lightyear.) But unlike Buck and Rizzo, Woody and Buzz learn to co-exist
with an ending that won't make audiences weep.
Bill and Ted's Excellent Adventure (1989)
This
lame-brained hit transplants some of history's famed figures into
suburbia, including the one-and-only Billy the Kid. (It's all courtesy
of the time-traveling telephone booth provided by high-school flakes
Bill S. Preston, Esq. and Ted Theodore Logan.) In contrast to other
film portraits of the kid — Sam Peckinpah's blood-drenched Pat Garrett and Billy the Kid
comes to mind — Dan Shor's embodiment comes off as particularly well
adjusted. He's able to keep a level head even when getting the cold
shoulder while trying to pick up chicks at the mall.
Timerider: The Adventure of Lyle Swann (1983)
In this low-budget
flick, motocross rider Lyle Swann gets caught in a time warp
that propels him (and his trusty bike) into the Old West. But while
coming across gunslingers and varmints galore, Swann, played by Fred "Remo Williams"
Ward, is frustratingly oblivious to that fact. Check out its cheesy trailer for everything else you need to know.
Midnight Cowboy (1969)
What happens when you take the Western ethos to (whoo-wee!) New York
City? Bad, bad things. Rather than conquering the pent-up wives of
Upper West Side bond traders, wannabee gigolo Joe Buck becomes mired in
the down-and-out life in Gotham. His best bud Ratso doesn't make much
of a sidekick, but they gradually warm up to each other. All in all,
using the cowboy symbolism helped turn the film turn into a powerful if
despairing tale of crushed dreams with a revamped country tune, Fred
Neil's "Everybody's Talkin," providing the elegy.
The Misfits (1961)
Many films have been slotted as swan songs to the West, but The Misfits
has a more legitimate claim than most. This bleak, modern-day drama was
the last performance of Marilyn Monroe and Clark Gable, and at the
beginning of the end for Montgomery Clift. Here, the usual cowboy
tropes — including bull-riding and roping horses — become fatalistic
rituals of men indifferent to life.
Read More