New Star Trek Cast – Meet Your Makers, Learn From Their Careers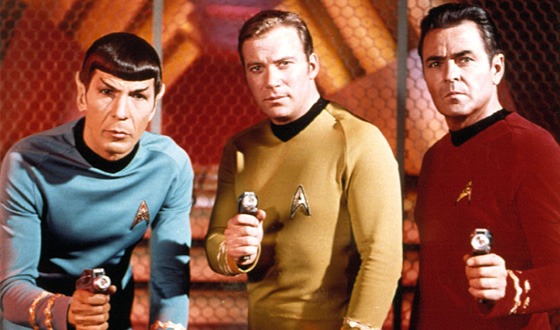 Star Trek Cast – Meet Your Makers, Learn From Their Careers" width="560″/>

Simon Pegg as Scotty? Zachary Quinto as Spock? With anticipation running absurdly high for J.J. Abrams' prequel to the Star Trek television series (titled, succinctly, Star Trek), Trekkies are finding their once nerdy obsession a surprisingly trendy topic of conversation these days. Here's hoping the new school of Star Trek warriors at the heart of the buzz live long and prosper
as so many of the original cast-members have, albeit in highly
idiosyncratic ways. Read on to find out what the stars of that series' first feature film, Star Trek: The Motion Picture (1979) have been up to, and to see whether you think the new generation is up to the task of filling their mod, mod boots.
William Shatner (Admiral James T. Kirk)
The man with the inimitable delivery has built an inexplicably successful career on not taking himself too seriously. He's the prolific author of a well-received autobiography, a memoir of his work on the Star Trek TV show, and numerous somewhat skippable science fiction and detective novels. He played Denny Crane on Boston Legal for the duration of that show's run and has had an enviable run of movie roles ( Dodgeball: A True Underdog Story , Miss Congeniality ). He's also the ubiquitous pitchman for Priceline.com — as if you needed a reminder.
Leonard Nimoy (Mr. Spock)
The beloved Vulcan inspired joyous pandemonium when he made a surprise appearance at a screening in Austin earlier this month and treated Texas Trekkers to a first look at Abrams' new movie. (Suckers thought they'd be seeing a new print of Star Trek II: The Wrath of Khan .) Nimoy is the sole lucky one among his old castmates to land an appearance in the latest Star Trek (as "Old Spock") and he makes the odd television appearance as well — such as an appearance Dr. William Bell in an upcoming episode of Fringe, another Abrams project. Not bad for a guy whose biggest claim to fame used to be the pointiness of his ears.
George Takei (Lieutenant Commander Hikaru Sulu)
Fans' favorite humanoid hobbyist last made headlines when he wed his longtime partner, Brad Altman, and his profile as an advocate for same-sex marriage has only grown since then. (He's even in a brand-new parody, "The Gaythering Storm". Takei has continued acting, doing voice work for The Simpsons and Futurama, as well as providing narration for Ken Burns' latest documentary series, The National Parks: America's Best Idea, which airs this fall. Last winter, he placed third on the popular British show, I'm a Celebrity, Get Me Out of Here! and an asteroid was named for him in 2007.
Nichelle Nichols (Lieutenant Commander Uhura)
Despite having appeared on Heroes throughout 2007, the actress who once made waves by indulging in an interracial kiss with Shatner in the original series has mostly kept a low profile since then. In 2008, she produced and starred in the indie comedy Lady Magdalene's. That film gave her an opportunity to sing two original songs onscreen; she had already recorded two albums and performed a one-woman musical called "Reflections." Martin Luther King Jr. (who purportedly considered her a role model for black women) would have been proud.
Walter Koenig (Lieutenant Pavel Chekov)
Koenig has continued acting as well — often in Star Trek-related projects, but also in such television series as "Babylon Five" and "Diagnosis Murder." Continuing the trend toward fringe acting roles, Koenig also performed his one-man play, "You're Never Alone When You're a Schizophrenic," at the New York Film Festival in 1996, wrote and starred in an independent science fiction film, Inalienable, in 2008, and even had his own comic book series (Raver) published by Malibu Comics. And that's not to mention what's surely the crown jewel of his resume: Playing the sleazy, sex-addicted televangelist Pastor Dylan in the indie flick Mad Cowgirl.
Read More