Uncategorized
Flashback Five – Getting Fired on Film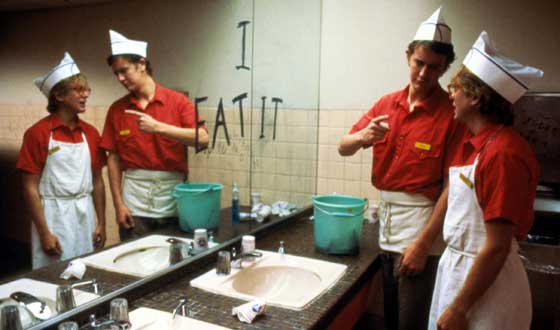 The economic slowdown continues, — and the latest unemployment statistics aren't helping anyone feel better about what's going on. We all know someone who's been laid off recently — or worse yet, we are that person. Perhaps the only consolation that Flashback Five can offer is that no matter how horrible it was being let go, it had to be better than one of these five "You're fired!" scenes…
1. 13 Conversations About One Thing (2001)
When office manager Alan Arkin has to let an employee go for budgetary reasons, he doesn't make the decision based on performance. Instead, he deliberately chooses an employee whose chipper manner infuriates him. The cruel joke is that even dismissal can't ruin the guy's mood. ("You know, maybe I should look at the upside of this; I can take that vacation I've always wanted."). Firing his nemesis doesn't make Arkin any happier, either.
2. Boogie Nights (1997)
Sometimes, some people try to argue their way back to the job. Good luck. In Boogie Nights, porn star Dirk Diggler (Mark Wahlberg) is canned because he's so coked-up, he can't perform. When director Burt Reynolds shows him the door, it's one of the ugliest meltdowns on celluloid: Wahlberg screams, shouts and swears he's ready for his close-up all the while lashing out at the man who'd become like a father to him. Imagine being fired by your dad!
3. Jerry Maguire (1996)
When the sports agent played by Tom Cruise is given the heave-ho, the set-up couldn't be worse. His unrepentant supervisor (Jay Mohr) drops the news in a crowded restaurant. Worse yet, Mohr takes pleasure from watching his frenemy hit the bricks: "Give me some credit for doing this face-to-face! What I went through, knowing I was doing this to my mentor!" The look on Cruise's face — shock, dismay, surprise, and the grim realization that he knew this was coming — make for a hell of a great scene.
4. Broadcast News (1987)
James L. Brooks' network news comedy ends in a series of mass firings that lead to hushed conversations and occasional freak-outs. Sound familiar? There's something dehumanizing as managers process people like parts in an assembly line, but the finale also has one of the funniest farewell responses from one fired employee to the manager who let him go: "Let me know if there's anything I can do." "Well, I certainly hope you'll die soon."
5. Fast Times at Ridgemont High (1982)
If one thing's worse than getting a pink slip, it's being fired from a low-wage, dead-end job you never wanted. When fast-food employee Judge Reinhold fights with a rude customer who's taking him to the breaking point over a store policy ("It says 100 percent guarantee!" "Mister, I'm gonna kick 100 percent of your ass!"), his outburst means his days at the grill are over. That's he's fired by his friend stinks but hey, it could've been his dad.
Honorable Mentions
5. What Happens in Vegas (2008) sees Ashton Kutcher fired from his construction job — by his own father, Treat Williams. Harsh.
4. One Hour Photo (2002) has sad, unhinged photo-developer Robin Williams let go for inappropriate behavior… which leads to much, much more inappropriate behavior.
3. Robocop (1983) has a nice, sardonic twist where corporate bad guy Ronny Cox's firing from OCP means his severance package comes in lead, thanks to Peter Weller's cyborg cop.
2. Kramer vs. Kramer (1979) gives Dustin Hoffman what may be one of his best scenes, as he literally begs for his job during a lunchtime meeting; it's like the Jerry Maguire scene, without a hint of laughter to soften the blow.
1. 2001: A Space Odyssey (1967) freaks us out because while we all worry that a computer will, one day, take away our job, after seeing how Hal 9000 lets people go from the mission in 2001, we should consider ourselves lucky if that's all they take.
Read More