Uncategorized
Flashback Five – Gay Marriage (Fuel for Politicians; Comedy for Hollywood)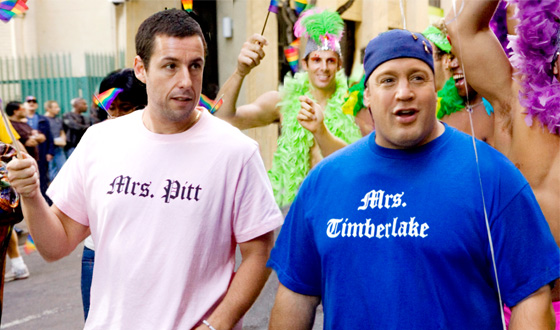 Gay marriage might just be the biggest issue in America right now (aside from the economy, of course), and with both Maine and New Hampshire having just passed laws allowing same-sex marriage and more states with votes on the horizon, it's not likely to leave the headlines anytime soon. Tempers on both sides are understandably hot; why not take a break from all the debating with a look at the funnier side of gay marriage, as portrayed in a comedy that will have you laughing no matter where you fall on the spectrum? They may even leave you feeling, well, gay. (Pun totally intended.)
1. I Now Pronounce You Chuck and Larry (2007)
In Adam Sandler's 2007 farce, the comedian got married to fellow firefighter Kevin James for the health benefits. Though the two aren't gay, they do learn many, many important lessons about how it isn't nearly as gross or hilarious as they think it is. One could hope the pair next tackle stem-cell research with such wit and nuance.
2. Talladega Nights: The Ballad of Ricky Bobby (2006)
In a decidedly heterosexual racecar movie, it's downright progressive for Sacha Baron Cohen and Andy Richter to play a gay couple who just happen to be gay. It's a bigger problem for Will Ferrell's rival driver Ricky Bobby that Cohen is French, and possibly better than him, to the point that Ferrell makes out with Baron Cohen as a way of apologizing for being mean. Which Richter is fine with.
3. Wet Hot American Summer (2001)
Possibly the most graphic scene in a movie filled with gross-out humor and drug use is the slow, beautifully lit sex scene between Michael Ian Black and Bradley Cooper. The pair even get married by the end of the movie, and the biggest joke made of their scenes is that there are absolutely no jokes. In a movie that is nearly non-stop goofy gags, the homosexual relationship is played dead serious.
4. Big Daddy (1999)
Like most of Sandler's films (see I Now Pronounce You Chuck And Larry, above), there's a concerted effort to show non-traditional relationships and characters in a positive light. Peter Dante and Jonathan Loughran play an affectionate gay couple who work as a positive role model to Sandler's loutish insta-father, and again, it's never played for laughs. Possibly the best argument on the list against the idea that gay partners can't be parents.
5. The Birdcage (1996)
…And speaking of which, there's this movie, which brought the idea of gay marriage to mainstream America for the first time, while raising an outcry in the gay community. Though Nathan Lane and Robin Williams portray a loving couple that has been married for years, they never kiss, hardly ever touch, and were played by (as far as anyone knows) heterosexual males. Still, the eventual message of "be with who you love" promoted tolerance. Also, it was funny.
Honorable Mentions:
1. Little Miss Sunshine (2006) – Steve Carrell's Kevin gets the best lines in the movie, and a realistic gay relationship, even if it's a relationship that just came to a bitter conclusion.
2. Best in Show (2000) – John Michael Higgins and Michael McKean are a gay couple mocked as openly and as evenly as anyone else in the satire.
3. In & Out (1997) – The closest this movie comes to a relationship is one long, hilarious kiss between Tom Selleck and Kevin Kline.
4. Four Weddings and a Funeral (1994) – Simon Callow and John Hannah are only seen together as a couple at the former's funeral, but it's one of the most moving scenes in the movie.
5. Rocky Horror Picture Show (1975) – It's unclear whether this technically counts as a relationship, but Tim Curry's Dr. Frank-N-Furter does build his own boyfriend from a dead delivery boy (Meatloaf). Aw.
Read More