Four of a Kind – Hollywood Gambles in Deadwood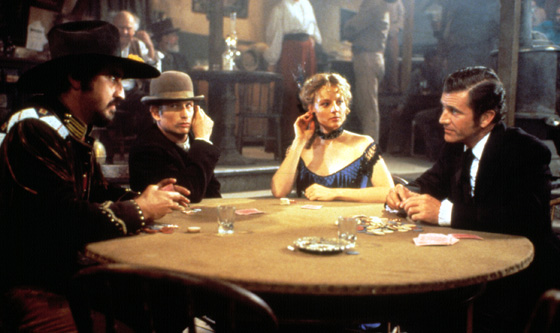 Sure, you could blame the recent spate of gambling flicks on the booming popularity of Texas Hold 'Em. From Lucky You to Casino Royale , the game is unfolding again and again on the big screen. Perhaps it has something to do with the idea that the film biz is just a big crap shoot. Perhaps not. In any event, cards and casinos have lead to interesting cowboy movies. Here are four noteworthy examples…
Wild Bill (1995)
Yessirree, gunslinging is a form of gambling. But Wild Bill Hickock (Jeff Bridges) doesn't stop there when it comes to courting danger. After being ousted as a lawman, he earns his wages at the poker table. Accounts vary as to his gambling prowess, but what's certain is that it led to his downfall: He took a shot in the back of the head while playing five-card stud in a Deadwood saloon. And thus the cards he was holding entered poker lore as the dead man's hand: Two pairs of aces and eights.
Maverick (1994)
Among gamblers, Bret Maverick (Mel Gibson) is the joker in the deck; he roams the Wild West in search of fortune and fun and often comes within a hair's breadth of death. Filling in the boots of James Garner in this remake, Gibson plays the card-playing clown prince with gusto as he tries to scrape up enough cash to enter a steamboat poker tourney. To get there, he has to dodge a caravan of cardsharps and con-men, too.
The Gambler (1980)
A TV movie-of-the-week? Why not. It spawned four sequels! Plus, it wouldn't feel right leaving out Rogers, who penned the definitive song about gambling, a country ballad called "The Gambler" that turned the poker table into a metaphor for life. The movie's less interesting than the song but in Rogers' favor, the singer was once a mainstay at the Gold Nugget casino in Las Vegas.
A Big Hand for the Little Lady (1966)
Decades before The Grand assembled Woody Harrelson, Werner Herzog, and David Cross for championship poker in Vegas, this 1966 Western did the same in the less glitzy town of Laredo populated by Jason Robards, Kevin McCarthy, and Burgess Meredith. The star is Henry Fonda who plays a recovering gambler who wanders into a high-stakes tournament. Needless to say from the title, a little lady also comes into play.
Click here for a full schedule of Wild Bill on AMC.
Read More