Fanboys Screenwriter Looks to Thundercade and Beyond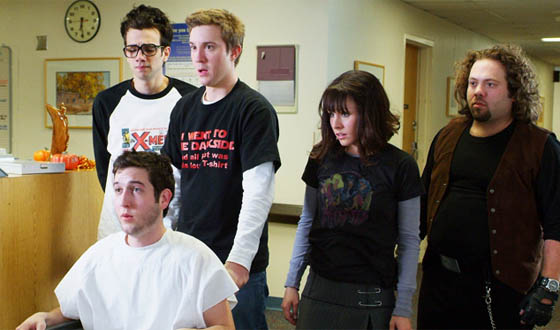 <img src="http://dev.blogs.amctv.com/wp-content/uploads/2009/05/Fanboys_Cline_560x330.jpg" alt="" title="Fanboys Screenwriter Looks to Thundercade and Beyond" width="560″/>

Ernie Cline wrote his first draft of Fanboys nearly 10 years ago. A story of friendship and loyalty set against the backdrop of Star Wars, it seemed destined for greatness — but Cline could hardly have guessed that greatness would come in the form of a bitter struggle with the movie's distributors and an eventual "Stop Darth Weinstein" Internet campaign to keep a plotline at the heart of the movie from being corporatized.
By now you've at least heard the plot of Fanboys, out today on DVD: Four die-hard Star Wars fans embark on a road trip to Skywalker Ranch in 1998 to steal an early print of Episode I for their dying friend. The picture was plagued with so many setbacks, you'd think it was a Terry Gilliam production. And yet, Fanboys made it to theaters with the polarizing subplot in tact.
Today Cline can focus on the positive experiences from making his first movie: "Seeing the poster hanging in a theater for the first time; seeing the trailer with an audience for the first time; even getting panned by Roger Ebert for the first time," he says. Mostly, he says, he can take pride in helping to legitimize the word "fanboy," which was recently added to the Merriam-Webster Dictionary (Noun: A boy who is an enthusiastic devotee, as of comics or movies).
"Amazing things can happen, even after ten years," Cline says, reflecting on the debacle. Hopefully it won't take ten years before we see his next movie, a video-game adventure-comedy called Thundercade. But Cline is optimistic: "Fanboys was a unique, once-in-a-lifetime experience," he explains, assuring that "Thundercade is a completely different movie being made by different people."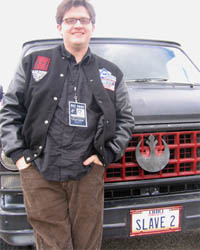 Not that Thundercade's audience should differ greatly from Fanboys's, since it's the story of the video game Olympics. Cline describes the movie as being set in "a kind of alternate reality where video game competitions are just as popular as professional sports, and the best gamers are treated like rock stars and have huge endorsement deals. The Super Bowl of the video game world is an annual tournament called Thudercade, where teams of gamers compete against each other for the title."
The cross-country road trip to a video-game competition might sound like a re-hash of Fred Savage's 1989 nerd-fest The Wizard. But unlike that Nintendo propaganda picture, Thundercade pits new-school players against a previous generation of gamers. "Old school gamers have a lifetime of experience," the 34-year-old Cline explains. "A lot of us were born at the same time as the video game industry, so we were the first generation to grow up playing them from birth — we've watched video games evolve into what they've become."
Once players arrive at the Thundercade they face a gauntlet of games (possibly even including the 1985 fantasy game Gauntlet.) "Games are chosen at random from a library of every video game ever made," Cline explains. "So players might have to play Halo 3 in one round and then Combat for the Atari 2600 the next."
As a lifetime gamer the author is using his script to debunk some of the stereoytpes gamers have endured in television and the movies. "I think it's a mistake to squeeze gamers into any one mold — as if gamers are all reclusive nerds who have no life. All kinds of people are gamers, just like all kinds of people are moviegoers. In fact, video games rake in more money every year than the movies, so that shows you how big and varied the culture is."
Thundercade's plot echoes Fanboys's in that both stories are about "geeks who attempt the impossible, and who triumph because of what colossal geeks they are." Cline will be the first to admit that "the theme of geek empowerment seems to run through a lot of my work."
But not all of it: After tackling video games and Lucas mythology, Cline is stepping outside of his geek wheelhouse with Heard it On the X. "It's a rock-n-roll pirate radio western about Wolfman Jack," he says, referring to the real-life 1960s disc jockey. The movie reunites Cline with Fanboys director Kyle Newman, and actor Dan Fogler (who stole the show in Fanboys as Hutch) is slated to play the legendary DJ.
But wherever Thundercade and the Wolfman Jack movie take him, Cline has one goal in mind: "Someday, I plan to write a great geeks-coming-of-age-in-the-'80s movie," he says, pausing before he adds, "Obviously, I love writing about geeks. Because I am one."
Read More