E.T.'s Magic Touch Warms Hearts, Cures Cancer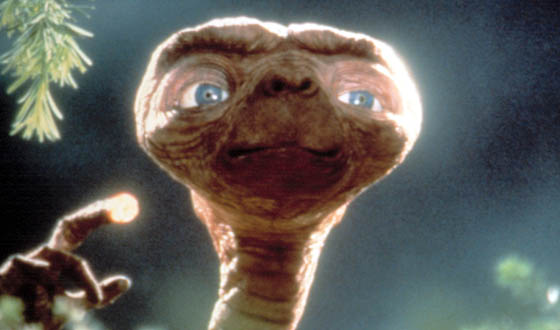 E.T.'s Magic Touch Warms Hearts, Cures Cancer" width="560″/>

A brown finger protrudes from the elongated forearm of a benevolent alien; the tip glows like an ember, and when pressed against a boy's cut, is capable of miraculous healing. It's this moment in Steven Spielberg's E.T: The Extra-Terrestrial that has inexorably linked the concept of healing with the power of light for science fiction fans. But is it actually possible to heal with light?
As it turns out, yes, it is. While a band-aid is a suitable cure for a small slice on a finger or toe, a sticking plaster imbued with a series of organic light-emitting diodes (OLEDS) can be far more effective as a treatment for more serious maladies, like skin cancer. Polymertronics, a small company operating out of Banbury in the United Kingdom, has been developing a series of band-aids that are designed specifically for use in photodynamic therapy, in which light-sensitive drugs are applied to the skin as a cream, then "activated." When red light is shined on the topical area, the drugs begin to work, and the skin cancer tumor is destroyed as it soaks through the skin.
"We're looking at developing a faster, cheaper, easier way to treat skin cancer," Polymertronics CEO Samuel Clemmet told New Scientist. The secret lies in the ability to print OLED impregnated bandages that exactly match the shape and size of a patient's skin cancer tumor. Testing the plaster in a Petri dish, Clemmet and his team were able to kill cancer cells in under 30 minutes. "Those kind of impressive results give it a very good chance of working just as well on humans," he told the Daily Mail.
Ironically, while OLED lights are effective in treating skin cancer, they can't heal the common cut as well as E.T.'s finger — though they have been tested on other kinds of skin diseases like acne and psoriasis. But the discovery has promise for the future of medicine: Where being submersed in a liquid bath was capable of healing all of Luke Skywalker's wounds on the planet Hoth, so might light one day be able to bask a patient and cause their skin wounds to melt away.
E.T.'s symbolic finger touch between alien and human isn't just a great movie moment. As science fiction often has the power to do, that moment has inspired doctors to meet the future head-on. Soon enough, the tanning bed won't just be for the swarthy, carrot orange egotist… it'll be for the patient.
Read More