Desperate to Fit in? Elle Woods, Borat, and Buddy the Elf Show How It's Done Even When It's Difficult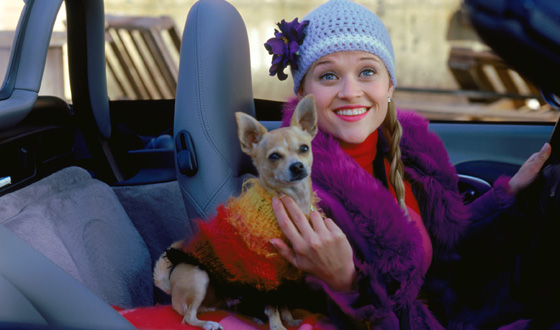 It may seem blasphemous to mention Supreme Court nominee Sonia Sotomayor in the same breath as Elle Woods, but considering that Sotomayor's the first Latina woman ever nominated to the bench, it's not that offensive. (We hope.) Sticking characters where they don't belong — or where they've never been before — makes for great comedy, but let's face it, some
cinematic strange ducks are better at blending in than others. And for every oddball
outsider who manages to make a go of it, there's a misfit who will never fit
in anywhere except on this list, which salutes the ten iconic strangers in strange lands, from the easily assimilated to the eternally out there.
Princess Giselle, Enchanted (2007)
Fairy
tales
are
all about outsiders trying to fit in: Mermaids trade fins for
limbs, scullery maids sneak into balls, and, here, wide-eyed Princess
Giselle braves the mean streets of Manhattan.
Expelled from her animated world by evil Queen Narissa, Giselle does
what she knows best. She summons the animals to her aid with a song (so
what if they're cockroaches, flies, rats and pigeons?) and falls
for a handsome divorce attorney. Not to suggest that making a frock out of your love interest's drapes is a good idea, but still.
Borat, Borat (2006)
Borat
Sagdiyev's "cultural learnings" hinge on him coming off as the
funny-looking foreigner in an ill-fitting suit. And does he ever. The
intrepid journalist is sent to the "U. S. and A." by the Kazakh
government to make a documentary about our society and customs. Once
here, he dupes zealots, bigots, and frat boys with his false-naif
stylings. Of course, Sacha Baron Cohen's whole m.o. depends on his not blending in with the rest of the pack, so adapting to his environment is definitely not in the cards. Very nice, indeed. Next!
Buddy, Elf (2003)
Even though he literally outgrows his home by
topping six feet, sweet-natured Buddy is shocked and appalled to learn
that he is adopted and human. (The horror!) When Buddy heads south to New
York City to find his real family, his biological dad reluctantly takes
him in, but workaholic Walter lacks the Christmas spirit. The earnest
elf sways the city cynics to renew their faith in Santa while wearing baggy yellow tights — no mean feat.
Elle Woods, Legally Blonde (2001)
You can lead a sorority girl to Harvard, but can you make
her think? That's the dilemma facing bubbly Elle. She's president of Delta Nu
and has a 4.0 (in fashion), yet her aspiring-politician beau dumps her
before heading off to Harvard Law because she's a Marilyn, not a Jackie. Elle follows
him east, where her Barbie-ish clothes and tiny dog make
the students think she's as featherweight as her plumed pens. But Elle
masters legal lingo — without giving up her shopaholic smarts — eventually winning a
big case and an even better boyfriend.
Mona Lisa Vito, My Cousin Vinny (1992)
It
could be argued that none of the Brooklynites in this movie belong in
the Deep South, but Mona Lisa Vito seems particularly out of place,
and she doesn't even bother trying to fit in. Why a lovely young woman like Mona
Lisa wants an old guy like Vinny to marry her is a mystery for the
ages. However, when the leather-clad lawyer asks his fast-talking
fiancée to take the stand in a small hick town — as an expert
witness on classic cars — she wows the skeptical Southerners and wins the
case without compromising her outsider status.
Edward, Edward Scissorhands (1990)
Little
orphan Edward does his best to fit in when a kind-hearted suburbanite
brings him back to her
pastel-hued homestead. He uses his the super-sharp blades that are his
fingers to trim shrubs into topiary and give the neighborhood
ladies wild haircuts. But his innocent nature allows others to exploit
him and his deadly, clashing mitts keep him from ever getting close to his true
love Kim. The sweet-natured Edward, seems destined to remain an outsider wherever he ends up. Alas.
Prince Akeem, Coming to America (1988)
Where
does an African prince find a suitable wife? Queens, of course! (Remember when jokes like that were actually considered funny?) Hoping
to dodge his arranged
marriage and find true love, Prince Akeem opts to masquerade as a
humble student in
the outer boroughs. The pampered prince lives in a cruddy apartment, works
at a fast-food joint, and falls for the boss's daughter. Assimilation successful!
Michael J. Dundee, Crocodile Dundee (1986)
In the midst of the "greed is good" go-go Eighties, Crocodile Dundee
breezes into Manhattan like a breath of fresh air. Game for any
adventure, Dundee accepts an invitation from the sweet reporter who's
writing a story about him to follow her back to the concrete jungle.
There the Outback outsider encounters transvestites, muggers, and the
Park Plaza when he's not throwing "another shrimp on the barbie." The wonder from Down Under gets extra points for becoming the toast of the town
without changing a hair on his ridiculously stereotypical head.
Madison, Splash (1984)
Madison is new to more than
just
Manhattan: She's a sea creature who sprouts legs to follow the man she's saved
twice onto
dry land. Mad's a little wobbly when it comes to mastering human
attributes like not tucking into an unshelled lobster with her hands, but this
literal fish out
of water is willing to try anything to be with the man she loves (Tom Hanks). Heartwarming! Plus, this one also co-stars John Candy and Eugene Levy – who are pretty much out of their respective elements in every role they take. Fish out of water heaven!
Judy Benjamin, Private Benjamin (1980)
Sure, odds are the Army would never pick Judy Benjamin for their army of one. Except for one
unscrupulous recruiter, that is, who cons the recently widowed blonde
into enlisting with promises of yachts and condos. When the
latrine-cleaning reality of army life kicks in, the spoiled socialite
insists she'd signed up for a different
Army. Goldie Hawn may never have been funnier (well, except in Overboard, maybe) — and kudos to her for proving that even a pretty, coquettish blonde can be the freak if the circumstances are right.
Who's your favorite fish out of water? Click here to vote.
Read More