Cruise, Apatow and Diaz to Appear in Upcoming AMC Storymakers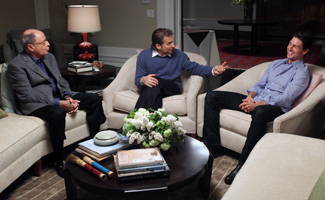 AMC Storymakers will return on Friday night with Tom Cruise, Cameron Diaz, Nick Cassavetes and Judd Apatow joining hosts Peter Guber and Peter Bart for roundtable discussions. Among the topics to be bandied about: Diaz's new movie, My Sister's Keeper, which was directed by Cassavetes.
Cruise, for his part, will talk about his memorable career, while Apatow discusses his new comedy, Funny People, which stars Adam Sandler and Seth Rogen. Be sure to check out what these industry insiders have to say when AMC Storymakers airs on Fri., May 15 at 10PM | 9C. For more about the AMC Storymakers, click here.
Read More