Classic Ten – Substitute Actors in Sequels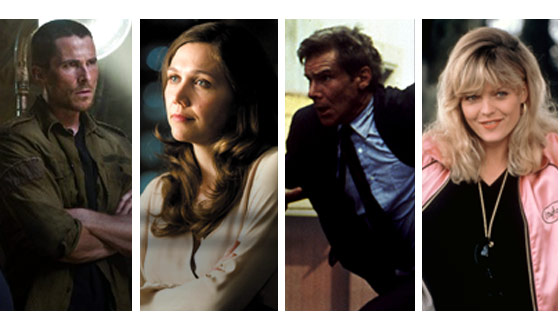 As Batman fans can attest, replacing the star player in a movie franchise is a seriously risky business. And yet, it happens all the time: Audrey Tautou fans are licking their wounds since the gamine Amelie star doesn't appear in Angels and Demons, the The Da Vinci Code sequel; meanwhile, Star Trek fans can't get enough of Zachary Quinto as the new Spock. For some actors at least, the second time's the charm. For those in the following top ten list, it sure is.
10. Don Cheadle replaces Terrence Howard: Iron Man 2 (2010)
It may be cheating a bit to include a sequel that won't see the light of day until 2010, but when it was announced that Don Cheadle would take over as Tony Stark's pal, it was the kiss-off heard 'round the world. Why the goodbye? Oscar winner Terrence Howard was rumored to have been difficult to deal with on set and overly demanding for his sequel salary. It's his loss too: Master actor Cheadle is a sure bet to best Howard's unremarkable turn in the original.


9. Michelle Pfeiffer replaces Olivia Newton-John: Grease 2 (1982)
"Look at me, I'm Sandra Dee," Aussie pop star Olivia Newton-John crooned in the 1978 hit musical Grease. Not for long. The 1982 semi-sequel saw a very young Michelle Pffeifer stepping into Sandy's goody-two-shoes-gone-bad persona, playing Pink Lady Stephanie Zinone. More of a remake than a true sequel, Grease 2's also probably the only movie to have a future Oscar-winner replacing a multiple Grammy-winner.


8. Bryce Dallas Howard replaces Nicole Kidman: Manderlay (2005)
This one's tricky. In Lars von Trier's challenging, artsy flick Dogville (2003), the part of Grace Margaret Mulligan was played by Nicole Kidman. In the 2005 follow-up movie, Grace is assayed by a younger flame-haired actress, Bryce Dallas Howard. The substitution makes as much sense as anything else in these studiously artificial movies, but Bryce better not get too comfortable. Von Trier has said that the third installation of his proposed American trilogy, Wasington, will star Kidman again.


7. Ethan Embry replaces Anthony Michael Hall replaces Jason Lively replaces Johnny Galecki: National Lampoon's European/Christmas/Vegas Vacations (1985, 1989, 1997)
The series that rates a lucky seven replaces the son in literally every sequel. When the clan set off for Wallyworld in 1983's Vacation, a pre-Sixteen Candles Hall played Rusty Griswold. Jason Lively stepped into the role for 1985's European trip, then was never heard from again. Roseanne star Johnny Galecki took over for 1989's Christmas with the family. Ethan Embry assumed the role in 1997's Vegas Vacation, but shouldn't bet on being asked back.
6. Maria Bello replaces Rachel Weisz: The Mummy: Tomb of the Dragon Emperor (2008)
Plucky Evelyn O'Connell endures a lot in the first two entries in the Mummy
franchise, so it wasn't that surprising when actress Rachel Weisz said
no thanks to a third return to the old tomb-and-gloom. Maria Bello, a
fine actress in her own right, gamely stepped into Weisz's vacated
spectator pumps and adopted her British accent. Too bad she was bested
by a lame "called out of retirement" plot and tired CGI effects — thus her middling spot on this list.
5. Julianne Moore replaces Jodie Foster: Hannibal (2001)
Jodie
Foster walked away from serial killer Hannibal Lecter and into the arms
of Oscar, winning Best Actress for her work as dogged FBI agent Clarice
Starling in 1991's The Silence of the Lambs.
So who can blame her for deciding to pass on the inevitable
sequel? Enter instead the fearless (four-time Oscar nominee) Julianne Moore. As
an older, more cynical Clarice, this alabaster-skinned redhead is tough
as nails (once again) and equally outhammed by her co-star Anthony Hopkins.
4. Harrison Ford replaces Alec Baldwin: Clear and Present Danger (1994)
Let's face it. In The Hunt for Red October,
Alec Baldwin's Jack Ryan was a little nerdy. His technocrat played second fiddle to Sean Connery's scenery
chewing. Then Harrison Ford stepped into the role and out from behind
the desk, first in Patriot Games and then in Clear and Present Danger.
Ford's take on the Tom Clancy character kicks ass, yes, but it's his
conscience that lands him in fourth. (The less said about Ben Affleck
the better.)


3. Maggie Gyllenhaal replaces Katie Holmes: The Dark Knight (2008)
Poor
Katie Holmes. After the ingenue landed the real-life role of Mrs. Tom
Cruise, she lost a choice celluloid one: Reprising Rachel Dawes in the
most recent Batman movie, The Dark Knight. Holmes had been singled out as the weak link in Batman Begins
(2005), failing to convince as either an idealistic attorney or Bruce
Wayne's love interest. The same could not be said of slinky Maggie
Gyllenhaal, who effortlessly stepped into the part and made it her own.
2. Michael Gambon replaces Richard Harris: Harry Potter and the Prisoner of Azkaban (2004)
Harry
Potter's third year at Hogwarts saw an unremarked-upon shape-shift in
the school's headmaster. British thespian Michael Gambon quietly
assumed the robes originally worn by illustrious actor Richard
Harris to play Albus Dumbledore after Harris died just before
shooting on the fourth Potter film began. When Harry Potter and the Half-Blood Prince is released, Gambon will have played the wizard four times, a magic trick that finds him finishing second.
1. Christian Bale replaces Nick Stahl/Edward Furlong: Terminator Salvation (2009)
Easy-to-anger
Christian Bale is quickly becoming the go-to guy when it comes
to sequel recasting, so it's no wonder he's number one on the list. Not content
with revitalizing the Batman brand by playing Bruce Wayne and his
brooding alter ego in two movies, Bale's now the third John Connor in
four Terminator flicks. Only a couple of years older than the gifted but erratic original Connor, Edward Furlong, and his
better-behaved replacement, Nick Stahl, Bale's the only one with enough
star power to carry a Schwarzenegger-sized sequel on his shoulders.
Which actor is your favorite upgrade for a movie franchise?

Read More