Classic Ten – Coolest Con Artist Duos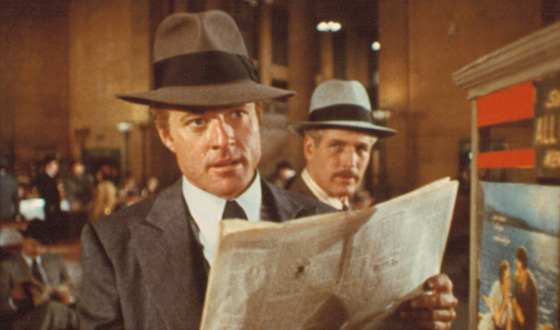 Sure, some con artists work alone. (Here's looking at you, Frank Abagnale.) But their stories don't make for good big-screen viewing, what with the lack of potential for sexual tension and witty banter and all. No, movie con artists — Mark Ruffalo and Adrien Brody in The Brothers Bloom, for example — for the most part work in teams, and the trend has yielded more than a few amazing casts. Which pair takes the lying, charming and manipulating to the level of high art? Read on!

10. Robert De Niro and Edward Norton, The Score (2001)
Some consider this one a heist flick. They're wrong. It's a classic con-artist tale; the plot hatched by partners-in-crime De Niro and Norton is straight of the swindler handbook: De Niro's a veteran safe-cracking pro who gets sucked into planning one last job, while Norton's an up-and-coming thief who poses as a mentally-challenged janitor to pull off the improbable. If things were a little less predictable, this one might have gotten bumped closer to the top of the list.

9. Jamie Lee Curtis and Kevin Kline, A Fish Called Wanda (1988)
It's a tough call which actor — Curtis (as Wanda) or Kline (as Otto) — logged more awesome screen time in this surprise smash hit. Was it Otto's seething fits of jealousy over Wanda's sexy time with Archie Leach (John Cleese)? Or the trail of dead Yorkshire terriers Wanda unwittingly leaves in her bumbling wake? Most likely it's a combination of the two, and though Wanda and Otto may well be the most inept con artists in history, that doesn't preclude them from earning a spot in this top ten.

8. Woody Harrelson and Wesley Snipes, White Men Can't Jump (1992)
As a pair of street-smart ballers who bank on other players' belief that the titular adage holds true, Harrelson and Snipes know exactly what they're doing. The movie gets big points for tackling racist stereotypes head on (and hilariously), as well as for Rosie Perez's awesome portrayal of the hopped-up, hand-wringing girlfriend who's obsessed with landing a spot on Jeopardy. Now if only the crimes were bigger!

8. Nicolas Cage and Sam Rockwell, Matchstick Men (2003)
These two should really pair up more often. Rockwell's swarthy charm is the perfect match for Cage's tormented-mess schtick in this twists-and-turns-packed drama about a neurotic con man who finds redemption in the form of a long lost daughter (Alison Lohman) with whom he reconnects late in life. Lots of critics hated the movie's bait-and-switch ending, but isn't that the point of a good con movie? to make you feel like you've been conned yourself? In that sense, this one works.

7. Paul Newman and Tom Cruise, The Color of Money (1986)
It may not pack quite the punch of Newman's debut as Fast Eddie Felson in The Hustler, but the sharp dynamic between Newman and Cruise easily earns this one a solid spot on this list. When the two join forces — Newman as the grizzled stakehorse, Cruise as the flashy young talent — there isn't a player in the pool hall who shouldn't be holding tightly to his wallet. The fact that real pool hustlers filled out the rest of the cast gives the proceedings an extra edge, as does a random appearance by Iggy Pop as one of the cue-toting contenders.

6. Robert Preston and Buddy Hackett, The Music Man (1962)
What con-artist list would be complete without a con-movie musical? Preston, as a likable crook masquerading as a marching-band instructor with the aid of his snub-nosed buddy Marcellus (Hackett), owns the part so thoroughly (as he did in the original Broadway rendition) that Cary Grant reportedly refused to take on the role. Preston also displays an impressive ability to get people to stop digging into his background by tapping into their latent desire to become part of a barbershop quartet.

4. Zero Mostel and Gene Wilder, The Producers (1968)
That's right — another musical celebrating the grifter life! (The musical theater community has apparently never found itself on the wrong end of a Ponzi scheme.) With all due respect to Matthew Broderick and Nathan Lane, Mostel and Wilder originated the roles of Bialystock and Bloom, and they just did it better. With a comedic mind like Mel Brooks at the helm (who else could have come up with the line "Don't be stupid, be a smarty/Come and join the Nazi Party"?) it's no surprise that this one clocks in near the top of the list.

3. Tatum and Ryan O'Neal, Paper Moon (1973)
Peter Bogdanovich's road movie earned then 8-year-old Tatum her biggest claim to fame to date — a Best Supporting Actress Oscar. (Well, unless you count getting busted for crack in '08.) She's still the youngest actress ever to have received an Academy Award, and young starlets angling to best that feat have their work count out for them: As young Addie Loggins, O'Neal rubs elbows with strippers, prostitutes, bootleggers, and ends up becoming quite the little criminal herself. They just don't write roles like that anymore!

2. Steve Martin and Michael Caine, Dirty Rotten Scoundrels (1988)
Is there any actor better for the role of a bumbling con man than Steve Martin? In Frank Oz's comedy classic, Martin is the perfect foil for Caine's sophisticated swindler. Oz would have gotten bonus points if a scene that was depicted in the movie's trailer (in which a dapper Caine shoves a little boy's face into his cotton candy) had made the final cut. Well, nobody's perfect. At least he saw the humor in including a character named "Janet the Jackal." Caine and Martin would've taken the gold if not for…

1. Paul Newman and Robert Redford, The Sting (1973)
For two actors with such upstanding legacies (Sundance! Salad dressing!), Redford and Newman certainly seem comfy in the world of cheating and stealing. The pair plays a couple of independent swindlers who team up to take down a mob boss, with an incredibly intricate plot that involves recreating an off-track-betting den from the ground up. The best part? Redford, as Hooker, doesn't even take the money in the end. He was just in it for the love of the con. Win!

Read More