Cannes Film Festival 2009 – The Dawn of a $70 Zombie Movie Called Colin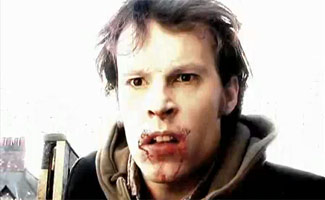 While Brad Pitt, Penelope Cruz and world premieres of multi-million dollar films like Up and Inglourious Basterds generated headlines at this year's Cannes Film Festival, the surprise story from the 62nd annual fest just might be the "no-budget" British zombie movie Colin made for about $70.
That's right — not $70 million, but 70 bucks. Less than the cost of an iPod Shuffle.
Written and directed by 30-year old Marc Price, Colin flips the usual zombie pic M.O. by telling its story not from the point of view of humans trying to fight zombies, but from the point of view of a zombie (Colin) who's trying to understand what has happened to him as he "wanders through suburbia during the throes of a cadaverous apocalypse." Check out the trailer.
The 97-minute feature screened during Cannes at the Marche du Film (Film Market) — a conference center located below the famous Palais — where filmmakers, studio reps and distributors meet to buy and sell films. Normally it's
"I was told that Cannes market screenings can be quite brutal, that people stay for 10 minutes then leave because they hate it. I didn't want to see that so I went and sat in a bar near McDonald's. The worst thing would be to spend nearly two years making a film, only for people to walk out. But the screening was full and everyone stayed until the end and was enthusiastic afterwards. I was thrilled."
Negotiations are currently under way with several distribution companies to bring the Colin to Japan as well as four American distributors for release in the U.S. According to Helen Grace, the sales rep for the picture, "We appreciate the interest we've had so far, and are very much looking forward to the further journey of Colin."
Buzz about it is certainly building. Journalists from CNN, The Hollywood Reporter and U.K.'s ITN have written about the movie (and its miniscule budget). Scars Magazine, a monthly independent horror magazine, proclaimed, "This film will revolutionize zombie cinema," while website Horror Talk says, "Colin is one of those rare gems of independent cinema…"
All the press is pretty amazing considering how the movie was made. Price, originally from Wales, harnessed the social networking power of Facebook and MySpace to find his zombie actors by simply posting 'Who wants to be a zombie?' He had a cast of around 100 who all worked for free.
Makeup artists, using supplies from previous movies they worked on, also worked for free creating zombie makeup and gore as a way to build their portfolios. "We told the makeup people to bring down their own equipment," Price said, which included the pro-bono services of his makeup department head Michelle Webb who was previously an assistant makeup artist on X-Men: The Last Stand.
Filming in both Wales and London took a year and a half of shooting three to four days a week while Marc was working the night shift for a private hire car company. He shot everything on a 10-year-old camcorder (seriously!).
Price, who works for a courier firm in London, edited the film himself during shooting so that he would know what pickup shots to get for his scenes. He also composed some of the score himself. He relied on many of his friends (and friends of friends) for help with all aspects of the production. Check out a clip.
So what did he spend the $70 on? According to Price, he spent it on a crowbar, a few packs of tapes and some tea and coffee for the cast and crew. "It was more about what we had than what we spent money on," he says.
Now that the festival has ended Price and his Nowhere Fast Productions partner Justin Hayles are building buzz through the film's website and their social networking accounts on YouTube, MySpace, Facebook and Twitter.
In an email to AMC News, Price reflected on his Cannes experience by saying, "Strangely enough I'm kind of doing what I thought I'd be doing in relation to Colin after Cannes… back at my day job, taking phone calls! But I'm much happier than I thought I would be. I genuinely didn't expect much to come from Cannes. All of the attention has come as a result of the press reacting to the news of the £45 ($70) budget, which is quite scary because that fact only came out by accident!"
Price and Hayles hope to use the building buzz and possible release of Colin to raise $100,000 for their next picture tentatively titled Thunderchild, a cross-genre war/horror movie set on-board a WWI bomber.
Read More