Cannes Film Festival 2009 – Snow in May? Yes, Thanks to Jim Carrey's Christmas Carol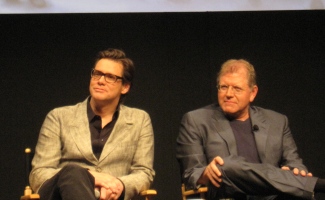 Monday afternoon at Cannes saw a mid-day snowfall outside the Carlton Hotel when Walt Disney Pictures faked flurries as part of a promotional event for Robert Zemeckis' upcoming computer-animated Charles Dickens' A Christmas Carol. Stars Jim Carrey and Colin Firth were in attendance; after the world premiere of two clips from the film, Carrey, Firth and Zemeckis took questions from the crowd of journalists present.
The tone was set even before the clips unspooled — when Zemeckis mentioned that undertakers used to tie a length of fabric under the chins of the deceased, "to keep rigor mortis from contorting their faces" Carrey, mocking his rubber-faced reputation, called out from the back of the room: "Bob? Where can I get one of those?"
I asked Carrey and Zemeckis if they watched any other versions of Dickens' classic tale to shun — or steal — from. Zemeckis praised "The Alistair Sim version; when someone says 'Which Christmas Carol should I see?' that's the one I point them to."
Carrey also praised Sims work in 1951's Scrooge:
"I
wouldn't say I stole from it, but I definitely wanted to leave the
bitterness, the sourness. You imagine he had the worst case of acid
reflux in the world." Carrey acknowledged that playing Scrooge was a career
highlight after years of comedic and slapstick work: "A character this
important, in a story this beautiful, the things you get to do as an
actor when you start talking out of your butt," as Carrey did in 1994's
Ace Ventura, Pet Detective, "…it's a long road."
His co-star Firth explained that the motion-capture process was really more artistic than one might think, despite the high-tech suits and body-scanning technology required. "Bob has more information on me than my doctor," he admitted. "but once you've put on the manhood-cancelling [motion-capture] suit, you just do it; there's no fourth wall, no camera you're going to play to." Firth's favorite take on the tale? "I love the Muppets version," he said.
Read More