Cannes Film Festival 2009 – As Pitt and Cruz Preen on the Carpet, a Market Bustles Below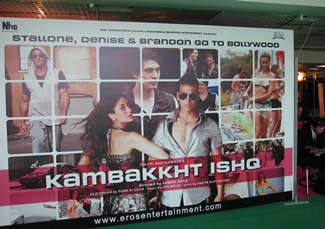 One of Cannes' secrets is that the red carpet premieres and jostling hubbub of the competition slate at the Palais du Cinema, the festival's colossal headquarters, are literally, the icing on the cake. During the festival, the lower levels of the Palais are transformed into the Marche du Film — the Film Market — where movie studios check out potential acquisitions and distributors sell their movies into new territories to increase the global audience (and the global box-office take).
So while Brad Pitt and Penelope Cruz preen on the red carpet, a bustling whirlpool of commerce and promotion takes place a few hundred feet below. The joke is that if a movie stars Sean Penn, you're seeing it in competition; if the movie stars Lance Henriksen, you're seeing it in the Market. And yet the Market's energy can't be denied: You can't ignore some of the guilty pleasures offered in this bizarre bazaar — like the poster for Kambakht Ishq, an upcoming Indian mega-production featuring Sylvester Stallone, Brandon Routh and Denise Richards.
Or take The Beacon, which played in the Market yesterday. Written and directed by Michael Stokes, it's a strong chiller-thriller starring Teri Polo (Meet the Parents) and David Rees Snell (The Shield), with supporting work from B-movie veterans Michael Ironside (Scanners) and Ken Howard (The White Shadow). Polo and Snell play a married couple who discover their new apartment building is haunted. I asked Stokes if it was hard screening in the Market, which is notorious for buyers walking out the moment they decide the movie is not for them: "The revolving door can be tough — as a filmmaker you want your audience swept up in your story — but it's the reality of the market. [But] sometimes you just know the audience is with you. You can feel their focus. That's glorious."
And while the Marketplace may be a Darwinian environment where only the strong sell, it's also, as Stokes notes, at Cannes. "This is my first trip to Cannes. The town is gorgeous and the Festival experience incredibly immersive," he said. "You alternate between watching films in small, dark rooms and talking about films with bright, passionate people. I had one of those "reality check" moments on my first morning here; I was sitting at the American Pavilion drinking coffee while staring out over the Mediterranean and thought, 'I've directed my first movie… and I'm at Cannes. Damn.'"
Read More