Cannes Film Festival 2009 – G.I. Joe Storms the Beach (As Does Hollywood)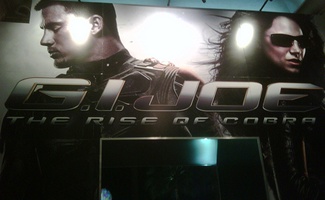 Mention Cannes to most moviegoers and they'll think of fashionistas as much as world cinema. So then why is it when you walk down the Croisette (Cannes' main drag), you're confronted with gigantic posters for the Travolta-Denzel remake of The Taking of Pelham One Two Three and the Stallone-Statham action pic The Expendables? On the front of the Carlton Hotel alone, you'll spot gigantic ads for Up, Transformers: Revenge of the Fallen, Coraline, Inglourious Basterds (which is, at the least, in competition), G.I. Joe and the upcoming Jim Carrey flick A Christmas Carol.
This Festival may pride itself on debuting heady dramas and high art but Hollywood comes to Cannes for promotional buzz: Past stunts have included Will Smith and Jack Black splashing about on jet skis for Shark Tale and Jerry Seinfeld sliding down a wire while wearing a yellow-and-black costume for Bee Movie. God only knows what Carrey might do on Monday for the preview of A Christmas Carol.
If it seems like a clash between high art and high commerce, it's also part of a long tradition. I spoke with Gary Meyer, the co-director of the Telluride Film Festival and a reporter for the San
These flashy stunts are also calculated moves on the part of the festival to book big movies, whether they're in competition or not. "You've got Up, Inglourious Basterds and Drag Me to Hell playing the festival," Meyer pointed out. "[Cannes] books commercial films like that to get media attention, but also, in a major way, to get American attention."
Read More