Cannes Film Festival 2009 – Opening Up With Tuxedos and 3D Glasses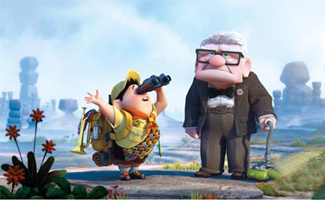 While its black-tie premiere is set for tonight here in Cannes, Pixar's new 3D film Up played to a packed house at a 10AM press screening this morning followed by a press conference with co-directors Pete Docter and Bob Peterson, producer Jonas Rivera and Pixar's head, John Lasseter. Docter explained Up's unlikely genesis: "We made a list of things we always wanted to animate, and one of them was an old guy."
Telling the tale of Carl Fredericksen (voiced by Ed Asner), a 78-year
old who takes his house on a voyage to South America with the help of
thousands of balloons, Up is Pixar's first 3D film — and the
first 3D animated film to play at Cannes. Lasseter laughed while
fantasizing about the premiere tonight: "All the people in their
tuxedos and gowns wearing 3D glasses — that's going to be the picture!"
At
the same time, even with the technical wonders of the movie's 3D
presentation, the Pixar braintrust were careful to emphasize the
emotional core of Up. As Lasseter noted, "Pixar is afilmmaking-led
Still, Docter laughed talking about the decision to shoot Up in 3D and
how the creative team reacted: "It's like a fun toy: 'Ooh, how do we
use it? What can we do with it?'" Finally, while Asner didn't make the
journey to Cannes, it was explained that the premiere tonight will have
a touch of unexpected star power, with French acting and singing legend
Charles Aznavour in attendance, in recognition of his work as the voice
of Carl in the French release of Up.
Read More