Blond Ambition – Actors Who Dyed for a Part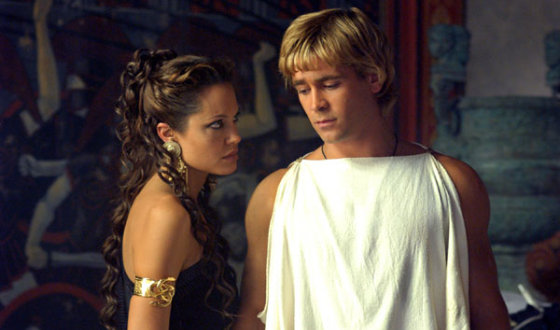 Actors are known for immersing themselves in their roles. Sometimes that means putting on weight (or, in Eddie Murphy's case, a fat suit). In other cases, it's as easy as stocking up on the peroxide and Clairol. A great number of actors have unleashed their inner Brad Pitts (or Paris Hiltons) when a role called for it. (Even if it didn't always suit their complexion.) In honor of Colin Farrell's silken (and totally natural) locks in Alexander, let's take a look at a few actors who had more fun (if only for a brief period) as big screen blonds.


Sacha Baron Cohen
Post-Borat,
many wondered how Sacha Baron Cohen would be able to fool unsuspecting
marks now that he's a worldwide celebrity. Turns out his plan was to
make himself look like a cross between Clay Aiken and Derek Zoolander.
And it appears to be working: Bruno recently made a memorable
appearance on a catwalk in Italy, where he fit right in with the other
self-absorbed blonds. You know what they say: If you can't beat 'em…mock them relentlessly by going undercover in their midst.
Mickey Rourke, The Wrestler (2008)
Rourke's
portrayal of a washed-up '80s relic is spot-on, from his love of metal
classics like Ratt's "Round and Round" to his scraggly, Hulk
Hogan-esque mane of bleached blond hair. Randy The Ram's dye job
epitomizes a man stuck in the past, desperately trying to live like
it's still 1987. Is there a sadder sight in recent cinema than
Robin/Randy stuffing his once majestic locks into a greasy deli
hairnet?
Jack Black, Tropic Thunder (2008)
Ben
Stiller's blistering moviemaking satire took aim at Hollywood pomposity
of all stripes. So it makes sense that Black's pampered, drug addled
comedy star would sport a terrible dye job. In an amusing case of life
imitating art, Black kept the streaks in for concerts with his band
Tenacious D, claiming he needed more hair to "rock properly." Leave it to Black to keep a gag running just a little too long.
Colin Farrell, Alexander (2004)
Farrell
was so committed to playing the young conqueror, he ditched the sharp
brunet locks that made him famous for lame blond extensions in
Oliver Stone's troubled film. (For a busy general, Alexander sure had a
fluffy head of hair.) Unfortunately, audiences didn't
take to Farrell's new look — or maybe they were just tired of yet
another bloated historical epic after Troy, Kingdom of Heaven, The Last Samurai, Master and Commander, and so forth.
Freddie Prinze Jr. in Scooby-Doo (2002)
When
you're playing a cartoon, you don't really have much to go on besides
the physical appearance. This is especially true when your character is
the terminally bland Fred from the Scooby gang. Fred's signature
characteristic (besides his jaunty ascot) is a bright yellow shock of
Hanna-Barbera animated hair. Prinze didn't really have much of a choice
here. Somehow, he still managed to get the girl (Daphne, aka Sarah Michelle Gellar).
Russell Crowe, The Insider (1999)
Crowe's
transformation into tobacco industry whistleblower Jeffrey Wigand
followed the typical Method actor path — pounds packed on, fake liver
spots applied, hair dyed within an inch of its life. (Crowe bleached
his hair seven times to match Wigand's.) And, of course, the effort
paid off come Oscar time when Crowe scored a Best Actor nod. Since
then, it seems like Crowe changes his physical appearance for pretty
much every role. Russell: They aren't all as good as The Insider. Don't strain yourself unduly.
Robin Williams, Toys (1992), Popeye (1980), One Hour Photo (2002)
Williams has never had any qualms about changing his appearance for a role. (Perhaps to a fault — entire generations still have nightmares about Bicentennial Man.)
He also seems to equate going blond with playing characters on the
fringes, as evidenced by his roles as a zany toy company heir,
obsessive photo tech, and punch-happy spinach aficionado. Basically, if
Williams goes blond for a movie, it's safe to say he's planning to creep you out.
Tom Cruise, Interview With the Vampire (1994)
To
play the immortal Lestat (the "Edward" of the grunge generation), Tom
donned a curly blond wig that made him look unnervingly like Kim
Basinger in Batman.
(How does someone who loathes the sun get hair that color? Must go
through a lot of Sun-In.) Tom lightened his locks again to play psycho killer
Vincent in Collateral, doing his best to drive home the point that Tom Cruise as a blond is deeply unsettling.
Winona Ryder, Edward Scissorhands (1990)
Tim Burton gave Ryder's career a huge boost when he cast her as Goth-y Lydia in Beetlejuice.
So it's no wonder she was more than willing to strap on a retro
strawberry blonde wig for her role as cheerleader Kim in their next
collaboration. (Ironically, Ryder is a natural blonde.) Burton said he
wanted to achieve a "Hayley Mills-type" look for Kim, which he more
than achieved with that unfortunate wig, to which Edward doesn't lend
his hair-styling skills, despite Kim's obvious need for a trim.
Robert Duvall, To Kill a Mockingbird (1962)
Duvall
made a memorable big screen debut as Boo Radley, the mysterious
neighbor feared by Scout and her pals in Harper Lee's classic. True to
his lifelong commitment to his craft, Duvall reportedly stayed out of
the sun for six weeks to achieve the look of a man who spent most of
his life locked indoors. (Perhaps he was preparing for his role as the
surf-obsessed Lt. Kilgore in Apocalypse Now. One can only imagine how long Coppola made him stand out in the sun bellowing "Charlie don't surf!")
For a complete schedule of Alexander on AMC, click here.
Read More