Birthday Suit Bonanza! Ten Serious Actors Who Get Naked on Screen Repeatedly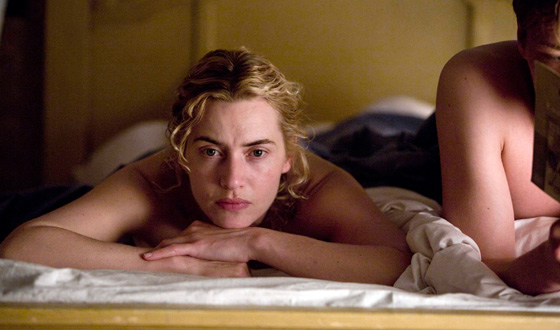 In the movie business, agreeing to go naked for a role is usually a sign of a career in free fall, a last desperate attempt to get attention before fading from the public's mind forever. But for some actors, it's just their favorite thing to do. It sure seems that way, at least, given that they seem to shed their clothes on camera with alarming regularity. Herewith, a list of the biggest stars who are the least shy about baring it all. Want to see more than these tastefully-edited photos allow? You'll have to look beyond these PG-rated pages. (Sorry.)
Colin Farrell
Strangely enough, Farrell seems like he would very much like to go full
frontal on screen; yet every time he films a scene entirely in the nude,
it gets cut. (Coincidence?) In A Home at the End of the World (2004), Farrell's nude scene was cut from the movie for being, "too distracting." In Alexander
(2004), the same thing happened… though the footage of Farrell's, let say, assets, was added back in for the Director's Cut. Farrell has shown off his other side in several other movies, like Ask the Dust (2006), and Hart's War (2002), but so far, the moviegoing audience has yet to see Colin's little Farrell.
James Franco
Franco hasn't gone the Full Monty like some others on this list, but the young actor has shown a proclivity for showing off his posterior. Like many actors of his generation, he's alternated between big-budget fare like the Spider-Man franchise, and smaller, indie one-offs.
Naturally (no pun intended), he's shown off the goods in the low-ones. Starting with the 2001 biopic James Dean, and continuing with Sonny (2002) and Milk (2008), Franco has shared his cheeky side on screen, while leaving the other parts to the imagination.

Anne Hathaway
When you think of Anne Hathaway, you think of Disney movies and romantic comedies… which is why it was such a shock when the young Miss Hathaway doffed her clothes for Havoc (2004), a movie about two affluent Angelenos who get mixed up with an urban gang. Hathaway was clearly trying to break away from her crystal clean image, but in a surprising move, the movie eventually went direct to DVD. More surprising? That Hathaway dropped trou again less than one year later, in Brokeback Mountain (2005).

Angelina Jolie
The original Octo-mom is no stranger to onscreen nudity, starting with a breast tattoo scene in 1996's Foxfire, and going on to appear topless opposite future husband Billy Bob Thornton in Pushing Tin (1999). Jolie has tended to stay clothed in her more serious roles, and saved nudity for… shall we say, less quality movies, like Original Sin (2001) and Taking Lives (2004). With minor onscreen nudity in both Changeling (2008) and Wanted (2008), Jolie doesn't show signs of stepping off the naked train anytime soon.

Harvey Keitel
If you were to contemplate the type of actor prone to nudity in movies,
you'd naturally guess he or she possesses an enviable physique.
Unfortunately, that would leave out the doughy, short Harvey
Keitel, who's appeared in the buff in some of the best movies of his day. Starting with Bad Lieutenant (1992), which has Keitel exposing his baby-maker as the
drug addled cop of the title, Keitel once again bared his assets in The Piano (1993) during several graphic sex scenes in the Oscar-nominated movie. The last time the actor disrobed was in 1999's Holy Smoke, opposite fellow list-member Kate Winslet.

Nicole Kidman
One of the most prolific actresses working today, Kidman also is
prolifically nude on camera. From a nude scene in her first major US
movie, Dead Calm (1989), to 2006's Fur: An Imaginary Portrait of Diane Arbus, Kidman has never shied away from going starkers on screen. Other roles have portrayed everything from the coldly sexual, as in Eyes Wide Shut (1999), to the more disturbing side of sexuality in Lars von Trier's experimental Dogville
(2003). Will Kidman keep up the with the flesh-baring now that she's a new mom? Here's hoping!

Ewan McGregor
Best to avoid making a joke about Obi-Wan showing off his lightsaber, and just get to the goods: Since his debut in Trainspotting (1996), McGregor hasn't been afraid to show off what his maker gave him. He took it to the next level using his entire naked body as a writing surface in The Pillow Book (1996), then played at rock star nudity in Velvet Goldmine (1998), and stripped down a decade later for Incendiary (2008). Given the fact that McGregor's next film is I Love You, Phillip Morris, a gay romance set in a prison, it shouldn't be long before fans are treated to another sighting.
Julianne Moore
Though the initial shock factor of seeing Moore's bits on screen has,
perhaps, lost its luster, who can forget the first time they saw more
of Moore? Specifically, the elongated scene in Short Cuts (1993) where Moore walks around her house with absolutely no pants on, a bit of verisimilitude that could have only come from the mind of Robert Altman. In Boogie Nights (1997), Moore plays a porn star, which Moore fearlessly plays as realistically as possible. And finally, as a performance artist in The Big Lebowski (1998), Moore plays nudity for laughs, literally flinging her naked body against a canvas in the name of "art."

Marisa Tomei
Talk about a late bloomer. It wasn't until 2005's Factotum, over two decades into her film career, that the award winning Tomei removed her knickers, and she hasn't stopped since. In Before the Devil Knows You're Dead (2007), Tomei starts the first scene of the movie in only what god gave her, and hardly puts on clothes after that. Then, in The Wrestler (2008), Tomei plays a stripper, and was Oscar-nominated for her trouble. Not bad for a 45-year-old, and living proof that sometimes
saying "I was waiting for the right project," isn't always just
Hollywood talk.

Kate Winslet
Though
she's said she'll never go naked onscreen again, this British thespian
was never shy about baring her body, in almost 30 percent of all feature
films she's appeared in. (Do the math!) Though Winslet
did go starkers in Jude (1996), her biggest on screen movie nudity ever was as part of the biggest movie of all time: Titanic (1997). More recently, she showed her stuff in the indie hit Little Children (2006), Revolutionary Road (2008), and her Oscar-winning role in The Reader (2008) — proving that taking off your clothes doesn't always mean you're on a career downswing.

Read More