Who Was That Masked Maniac? Ask as You Run in the Other Direction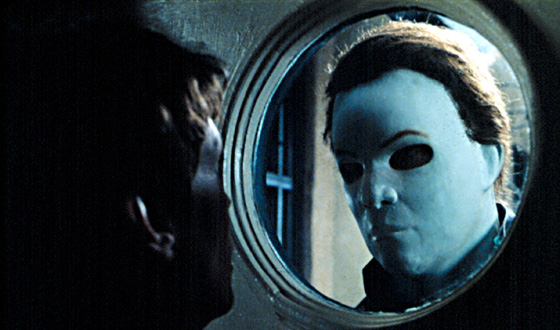 Guess what? The face of evil isn't a face at all. It's a mask. It can be hard plastic, rubber, opaque, transparent. Hell, a burlap bag with eyeholes will do. What matters is how many sleepless nights you spend waiting for that not-quite-human visage to melt out of the darkness and give you the fright of your life. Sleep tight kids, but before you do, revisit some non-faces that launched a thousand (bad) trips. By their disguises ye shall know them:
Four Flies on Grey Velvet (1972): Everybody knows Dario Argento's black-gloved slashers, but trust me — the enigmatic stalker behind the blandly smiling puppet face is gibbering fear incarnate.
The Texas Chainsaw Massacre (1974): Subtract Leatherface and Tobe Hooper's backwoods family would be sad, clan-that-time-forgot candidates for social services. Add him back in and look forward to a lifetime of never, ever getting off the highway. Not even for lunch at that roadside barbecue shack. Scratch that — especially not for lunch at that roadside barbecue shack.
Alice, Sweet Alice (1976): Eleven-year-old Brooke Shields is strangled on the day of her first Holy Communion by a sicko in yellow rain slicker and a clear plastic mask. Who would do such a thing? You don't have to be Catholic to be creeped the hell out, but it helps.
Halloween (1978): How did William Shatner become the face of Michael Myers? Production designer Tommy Lee Wallace picked up a couple of masks at a Hollywood Boulevard costume shop, John Carpenter rejected the clown for the rubbery, over-the-head Captain Kirk model, and a few modifications — voila! The bogeyman. That "plink plink plink" music just started up in your head, didn't it?
Motel Hell (1980): What's scarier than a deranged sausage maker with a chainsaw? A deranged sausage-maker with a chainsaw and a pig mask. 'nuff said.
Friday the 13th Part 3 (1983): Jason Voorhees didn't get his battered hockey mask until the second sequel, and I'll wager the franchise would have petered out long before it made it to 12 features (and counting). So featureless. So creepy.
Fortress (1986): Thanks, HBO, for traumatizing a generation by putting this Australian made-for-TV thriller into heavy rotation in the late 1980s. Why so scary? Because the thugs who kidnap one-room schoolmarm Rachel Ward and her students aren't just sadistic perverts. They're sadistic perverts in cheery children's masks: A pussycat, a duckie, a mouse and Santa Claus (or Father Christmas, as they say Down Under).
Scream (1996): From Norwegian artist Edvard Munch to all-American punk in just over 100 years: The melty, ghostface mask that defines the Scream franchise echos Munch's obsessive images of a pale, hollow-eyed face whose mouth is locked in a perpetual scream. It passed directly into the pop-culture unconscious and will not leave.
The Strangers (2008): What's worse than a home invasion? Squabbling middle-class couple Scott Speedman and Liv Tyler find out when their out-of-the-way house is invaded by three masked sociopaths committed to terrorizing them just "because [they] were home."
For fright night frolics, watch Halloween 4: The Return of Michael Myers (as though he ever left!) and Halloween 5: The Revenge of Michael Myers on AMC. See full schedule.
Read More